Statement by Emeka Ugwuonye in Reaction to Saharareporters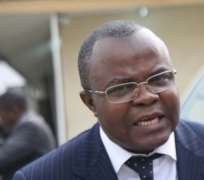 In my experience, I have come to realize that it is very important to tell the readers the truth all the time. So, I admit that early yesterday morning the Clerk of the court prompted a standard and regular administrative step in my case against Saharareporters, which forces me to respond accordingly. It was an administrative procedure by the Clerk's office, and not a judgment by the Court of Appeals. Once I got the email alert from the court, I contacted them and everything is under control. No more, no less.
This is the simple truth of the matter that Saharareporters has reported about the appeal in my case against its owner, Omoyele Sowore as in the link attached. While I was in Nigeria recently, the Court of Appeals for the Fourth Circuit in Richmond, Virginia, issued a notice concerning certain documentations required in the appeal. The notice was sent electronically to all the parties while I was in Lagos. However, due to network problems in Nigeria, I could not attend to it as required electronically while traveling in Nigeria. Coupled with that, my return to the United States was delayed by several days. The further notice that the court issued yesterday morning regarding that matter is also only a standard procedure that the court follows. It has the effect of getting the defaulting party to focus and address the administrative issue at stake. Indeed, steps had already been taken to correct the situation. Saharareporters' gloating is therefore misplaced and quite undue.
It is important, however, to note that the story currently peddled by Saharareports.com against me is a child's play compared to the extremely salacious falsehood the same group peddled against me in 2009, which led to the mother of all litigation since then. What is it that happened to curtail Saharareporters, many have wondered. What is it that caused Sowore and his Saharareporters to now look over their shoulders before they go off on their extreme lies? The answer is in the battery of lawsuits that I initiated in response to the false stories they published against me. I have caused them to realize there are consequences to lies. Through my lawsuits, I have been able to establish in American courts that Saharareporters is not telling the truth most of the time, but rather it is a tabloid with the right to lie within the excusable margins set by the American theory of actual malice.
That was a great victory for me in itself; establishing that Saharareporters is a tabloid, and not the gospel truth many had unwittingly believed it to be. It doesn't have to tell the truth. And as long as we understand that they are not telling the truth, I have no problem with their lies. It is just a modern day "Papa Ajasco."
For four years now, I have been a target by the Nigerian authorities for persecution. They had expected me to run. But as you all know, I refused to run. I decided to face up to the most corrupt, the most inept, the most criminal-minded and the most depraved regime in the world today. I face them in their grounds ready to pay any price just to show the world and particularly Nigerians how they have been defrauded by the people they were supposed to have elected to govern them. The Nigerian authorities have thrown everything they have got at me. The only thing remaining is for them to shoot me or bomb me or carry out any of the terrorism operations they blame on others. But that has not deterred me either.
It is irrelevant that Sowore should use his newfound weapon of Saharareporters to aide a regime opponent, and in the process help himself a little bit. Nigerian Government is not a government, and Nigeria may not be a state either. You already know it without me saying it again - that Nigeria is a gangland ruled by gangsters from top to bottom. If you annoy them, they use the criminal justice system against you. They accuse you of some fancy crime. I am lucky they couldn't accuse of me rape, as they did the poor fellow who dared to sue them in Nigeria. And the people of Nigeria are the victims. You don't need to believe me. Just look at your hospitals, look at your roads, look at electricity, look at educations, look at security; and tell me any other country like that. None! Not even Iraq or Afghanistan or North Korea. (Please, let's not mention North Korea. At least they could produce nuclear energy, when Nigeria cannot produce even a small generator to power even a flashlight. There is simply no other country like Nigeria.
Another achievement: Up to 2010, Saharareporters could take money from a person and spread incredible lies against that person's enemies. (It still does a bit of that) It was an awesome power it had then. Everybody, small and mighty, trembled before such power to manipulate information and public opinion against anyone they targeted. Sowore himself amassed some little wealth all from blackmail money he collected from his victims and the shakedowns. When they used that power on one of my clients in December of 2008, I sent them a strong warning that there would be consequences. Then they turned around and used that same weapon of lies against me. When that happened, all bets were off. I had to pursue them with the law, and Sowore had to run like a criminal, constantly looking over his shoulders as he moved. Today, his only hope is in his ability to occasionally report a victory for himself, whereas, in reality, he continues to face the burden of looking over his shoulders out of fear that the law could catch up with him any time.
In his current report, there are still palpable falsehoods, despite the fact that Sowore (the owner of Saharareporters) could no longer lie with absolute impunity. But everyone who has a mind to think will see through his lies and twists. For instance, he tells you that an appeal was dismissed because I did not file the necessary paper to keep it going. He ought to have told you the real situation, the entire truth. But he didn't. Further, he tells you that a case against me in Nigeria is on appeal. But he didn't tell you why it is on appeal or who initiated the appeal. Why did the case the EFCC filed against me go on appeal? Of course, he would not tell you that I won the case, as it was thrown out for lack of merits. They then went on appeal to disguise their colossal loses. How can Nigerian Government go on appeal against me?
Saharareporters no longer poses the threat it once used to pose, thanks to my lawsuits. It used to get away with everything. Sowore had the audacity then to collect blackmail money left, right and center. But since 2011, they have had to account to the law to some extent. I will continue the relentless pursuit of the truth in these matters, knowing fully well what that does to the likes of Saharareporters. I shall continue to act as a disinfectant against Sowore's and Saharareporters lies. The fact is that I still have his deposition testimony given under oath. It remains quite an impressive read as it shows a scoundrel and a criminal mind parading himself as an online journalist.
One thing remains clear; I was the only one that refused to buckle under fear. And for four years, I have held them at bare. No one can deny that fact. Even with the help of a whole government and an army of desperate government officials, they are still struggling against me. As the reader goes through the story in Saharareporters, the reader must not forget that it is a story against Saharareporters' nightmare. Let's call it a story of Saharareporters by Saharareporters for Saharareporters. That's really all the reader needs to bear in mind.
For the avoidance of doubts, my cases against Saharareporters continue unabated, and will not stop until I bring them to account for the lies they told against me.