Britain Snubs Argentina's Fernandez Over Thatcher Funeral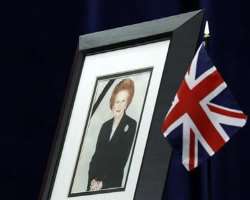 Britain will not invite Argentine President Cristina Fernandez to Margaret Thatcher's funeral next week in a snub likely to deepen a long-running diplomatic dispute over the Falkland Islands.
Thatcher, 87, who died on Monday, led Britain at the time of the 1982 Falklands war ordering her armed forces to repel an Argentine invasion of the contested South Atlantic archipelago which Argentina calls Las Malvinas.
Just over 30 years later, memories of the conflict remain raw and Fernandez has mounted a campaign to renegotiate the islands' sovereignty, lobbying Pope Francis on the issue and rejecting a referendum last month in which Falkland residents voted to remain a British Overseas Territory.
A government source told Reuters that every country with whom Britain enjoys "normal" diplomatic relations was being invited to Wednesday's funeral, but Thatcher's family had objected to Fernandez attending.
"It's about adhering to her family's wishes," the source said. A government spokesman said Argentina's ambassador to Britain would be invited, and that was in keeping with protocol.
The Daily Telegraph newspaper, without citing its sources, reported that Thatcher's children Mark and Carol said they felt it would be "inappropriate" for anyone from Argentina to be there after government officials floated the idea.
Argentine Foreign Minister Hector Timerman brushed off the apparent snub.
"It does not matter to me to be invited to a place where I don't want to go," he told a local radio station. "It is another provocation. The woman died, let the family mourn her in peace".
Prime Minister David Cameron's office made it clear on Thursday that invitations will be sent far and wide.
"Around 200 states, territories and international organizations are being invited to send an official representative to the funeral service," a spokesman said.
"We have invited those countries and institutions with whom we have normal diplomatic relations."
FALKLANDS THEME
Members of parliament from Thatcher's ruling Conservative party have hailed Britain's victory in the Falklands war as one of her greatest achievements and her funeral is expected to follow a Falklands theme.
More than 700 armed forces personnel will take part in the ceremony and the 10 coffin bearers will be drawn from regiments and units that played a pivotal role in the conflict.
The war boosted Thatcher's flagging political fortunes at the time and cemented her image as a patriotic defender of what was left of Britain's Empire, helping her win a landslide victory at a general election in 1983.
In a ceremonial funeral with military honors and attended by Queen Elizabeth, Thatcher's coffin will be drawn on a gun carriage by six horses through London to a service at St Paul's Cathedral, a format that has drawn criticism from some politicians and commentators for its pomp and public expense.
Invitations to more than 2,000 guests will be sent out on Friday. Mikhail Gorbachev, 82, the last leader of the Soviet leader, will not be able to attend because of ill health, his spokesman said on Thursday.
Nancy Reagan, 91, the widow of Thatcher's great political U.S. ally Ronald Reagan, will also not be able to make the trip.
Cameron's office said those who have already said they will attend include former British Prime Minister Tony Blair, FW de Klerk, the last President of apartheid South Africa, and Canadian Prime Minister Stephen Harper.
It said invitations would be extended to all surviving British prime ministers and surviving former U.S. presidents, former U.S. secretary of state Hillary Clinton, European Commission President Jose Manuel Barroso and a representative of South Africa's Nelson Mandela, who is 94 and in poor health.
REUTERS