Sambo To Lead FG Delegation To Ontario As Nigeria Moves To Boost $6.7 Bn Trade Relations With Canada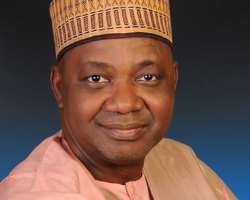 VICE PRESIDENT NAMADI SAMBO
SAN FRANCISCO, April 09, (THEWILL) - Vice President Namadi Sambo will, next month, head a Federal Government delegation to Ontario, Canada to cement economic ties between the two countries in the areas of mining, agriculture, health, education entertainment and other crucial areas.
The meeting, which is part of the moves to advance forward the Nigeria-Canada trade relations, the current value of which is put at N6.7billion, is a follow-up to a similar one held in Nigeria in January during which the Minister of Trade and Investment, Olusegun Aganga, and the Canadian Minister for International Trade, Ed Fast, co-chaired the Nigeria-Canada Bi-National Commission in Abuja.
Minister of Trade and Investment, Aganga, who disclosed this ,Tuesday, while speaking with State House correspondents after a meeting with the Vice President, said the country was on the verge of boosting its already strong economic relationship with Canada.
Aganga, who said previously, the trade volume was determined largely by crude oil export, raw materials and jobs exportation, disclosed that " there is going to be a shift now," adding " We want to do better trade and stay at a favourable position in the value chain."
It is worthy to note that Nigeria is one of Canada's largest trading partners in Sub-Saharan Africa. In 2011, alone , the value of merchandise trade with Canada stood at $2.7billion; consisting of $2.5billion in Nigeria's exports to Canada and $199million import. Similarly, a huge chunk of the country's export to Canada, revolves around oil and gas.
According to Aganga, the Canada investment forum is billed to discuss and economic strengthen ties, pointing out that the Federal Government is also putting measures to reduce export of raw materials while focusing efforts on the export of finished goods in order to put the country in a favourable position in the value chain.
"There are three things happening between Nigeria and Canada. One is the bi-National Commission between the two countries which is going to hold and which is going to be chaired at the Vice President's level with the ministers who will look at it and implement it.
"The second big thing is the investment forum which is going to take place between 2nd and 4th of May, 2013. The preparations and the business relationship between the two countries are going on extremely well. We have had a lot interests from the Canadian Government and private sector.
"We have also had about 60 to 70 Nigerian companies which have shown interest in the forum. We have a number of state governments which are willing to participate. So, everything is moving on in the right direction," he said.
Aganga, who noted that knowing the potentials that Canada has in the area of mining, power, health and education, said the government is looking at the possibility of investing heavily in human capacity management.
"In the area of aviation, we already have a strong relationship with Canada and the Minister of Aviation will be there to follow up. We will be looking at agriculture and related areas, including petrol chemicals," he said.
The Minister said considering that both countries have huge film industry, Canada has requested that a synergy be created in the two disparate ensembles so that some of the Nollywood stars can work with their Canadian counterparts.
"We are going to do that and hopefully sign some MOUs before we come back but for all these to happen you need what we call Investment Promotion and Protection Agreement (IPPA).
"But with the Canadian Government, we have a different agreement called VIPA. We have negotiated that and they are coming here around 15th to 20th to finalise the negotiations that will provide the legal basis for most of what we did in terms of investment promotions," Aganga explained.