11 Killed In Renewed Violence In Bakassi, Several Homeless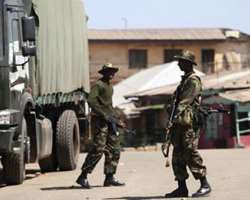 CALABAR, April 08, (THEWILL) - Renewed attacks by the Cameroon Gendarmes on the people of Bakassi have claimed 11 lives while several others are believed to be missing.

Member representing Bakassi State Constituency, Hon. Saviour Nyong said while presenting "a matter of urgent public interest" in the Assembly that the Republic of Cameroon has flagrantly refused to keep the terms of the Green Tree Agreement.

Hon Nyong said the Agreement stipulates that Cameroon shall not force Nigerians living in the peninsular to leave against their wishes or change their Nationality.

The agreement also stipulates that Cameroun Republic must respect their culture, language and maintain their fishing rights and other Agricultural activities in addition to protecting their customs and properties; as well as take proper steps to protect Nigerians living in the zone from any form of harassment among others.

He said it was unfortunate that the reverse was the case now as Cameroon Gendarmes have constantly continued to unleash terror on the Nigerians living in that zone.

The legislator informed the Assembly that Nigerian nationals have been humiliated, made to pay high taxes, had their farming activities disrupted, had their women molested and raped, had their properties seized and their cultural heritage disregarded.

He maintained that the primary school which was being used as a refugee camp is inadequate to house the 3 women who had just put to birth; including 30 babies-in addition to the other 600 Nigerians children. He added this posed a serious health challenge which should be tackled immediately.

He expressed worry over the poor sanitary condition of the camp and the lack of portable water which he said could lead to outbreak of epidemics.

Hon Nyong said the people of Bakassi, under the leadership of Senator Florence Ita Giwa and the Traditional Rulers Council have taken steps to provide temporary relief, pending when the State and Federal Government would come in.

Consequently, the House has resolved that relevant MDAs, including all public spirited individuals should make available relief materials to the suffering people of Bakassi.

The Assembly also called on the National Refugee Commission to carry out its obligations and come to the aid of the refugees.

The House stressed the importance of demarcating the boundary on the land and sea and, called on the United Nations (UN) to ensure that the Green Tree Agreement is upheld and the rights of the Bakassi people be considered by the International Community.