Shettima Eulogises Mandara As Dujima Of Borno Is Buried In Maiduguri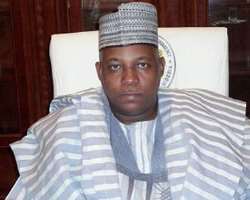 BORNO STATE GOVERNOR, ALHAJI KASHIM SHETTIMA
SAN FRANCISCO, April 08, (THEWILL) – Borno State governor, Alhaji Kashim Shettima, has described the late business mogul and politician, Alhaji Bukar Mandara, who died on Sunday after a protracted illness, as a democrat whose politics was always aimed at the downtrodden.
Speaking at the funeral service held for Mandara, Monday, in Maiduguri, the Borno State capital, Shettima said the late Dujima of Borno was a philanthropist, a mobiliser and supporter of the masses.
The funeral service was held at the late politician's residence along the Government House in G.R.A. in Maiduguri and was attended by Magajin Garin Sokoto, Alhaji Hassan Danbaba Marafa represented Sultan of Sokoto, Sa'ad Abubakar, while the Shehu of Borno and Shehus of Dikwa and Bama led other traditional rulers in the State at the service.
At the ceremony, Governor Shettima was accompanied by the Secretary to the State Government, Ambassador Baba Ahmed Jidda, Commissioners, Special Advisers and other political appointees.
Borno elders including renowned professor of medicine, Umaru Shehu, were also in attendance. The Imam Idaini of Borno, Sheikh Babagana Ibn Asil As-Sunusiya, led the funeral prayers for the repose of the late Mandara.
Shettima said the late Mandara lived a fulfilled-life which impacted positively on the welfare of hundreds of Nigerians within and outside Borno State, especially the downtrodden.
"Baba (the late Dujima) was a unifying factor for all of us both the young and old regardless of ethno-religious diversity. He was an enigma, he was fearlessly frank because he told everyone the truth no matter who the person was and how highly placed, he was open minded, highly industrious, illustrious, he promoted and defended our traditional institution.
"He was a philanthropist, he was a mobiliser and supporter of the masses which was even why he was the national leader of vigilante groups who worked day and night to compliment efforts of different levels of government in providing security.
"He was also a democrat whose politics was always aimed at the downtrodden, the reason he was associated with the defunct National Mass Movement of Nigeria as a political party in Nigeria; the Dujima was also very responsible to his parents, he took very good care of his old mother to the admiration of everyone and to encourage the young ones to toe the right channel. The Zanna Dujima was one of those who created hundreds of employment opportunities in Borno State through direct investments resulting from many years of hard work, determination and focused entrepreneurial spirit," the governor said.