Nigeria: Petrol Tanker Explodes Killing 36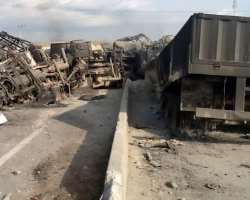 At least 36 people have died after a petrol tanker exploded when it collided with a bus on a highway in Nigeria.
The accident took place on the Benin-Ore highway at Igbogui village in southern Edo state.
Jonas Agwu, a spokesman for the Federal Road Safety Commission, confirmed the death toll, adding it included 30 passengers from the bus.
Four people from the tanker died as well as two children who were at a nearby mechanic workshop.
Mr Agwu said the fire which erupted from the accident quickly "spread to a nearby mechanic workshop where eight other vehicles got burnt. A nearby local market also got burnt".
The highway links Nigeria's commercial capital Lagos with eastern and southern states of the country.
Nigeria has one of the worst road accident records in Africa, with poor roads, badly maintained vehicles and reckless driving killing thousands every year.
Eighteen people were killed and nine others seriously injured Wednesday when their bus veered off its lane and collided with another bus along a highway linking the capital Abuja to the central city of Lokoja, officials said.
SKYNEWS