KOGI invasion of ANAMBRA ,GOV TAKES WAR TO ASO ROCK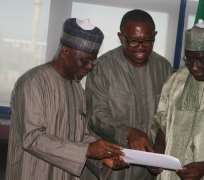 The Anambra State governor, Mr. Peter Obi and his Kogi State Counterpart, Capt. Idirs Wada have resolved to work more for peace, progress and good neighbourliness of their two States. They made this resolution yesterday at the Kogi State Governor's Lodge, Asokoro Abuja after a closed door meeting on the recent dispute between Odeke in Kogi and Agulueri-Otu in Anambra State.
In a joint communiqué issued by the Governors, they regretted the dispute between both states and assure that adequate measures have been put in place through the collaboration of both Governors for the border dispute between both States not to continue. They affirmed faith in the Steps already taken by the President, Dr. Goodluck Ebele Jonathan towards the settlement of the border dispute and called on their people to be patent for the Boundary Commission to do its work.
In the communiqué, they said that the border crises did not result to any loss of life as the media reported and that only 5 houses and not 57 as well as only 4 motorcycles were destroyed. They gave assurances that the Governor of both States would come to the aide of their people affected by the dispute. They also said they would continue to explore the option of peace as the country does not need crisis of any type at this time.
In another development, both Governors visited the Federal Ministry of Transport where they made case for the inclusion of Onitsha through Ayamgba to to Abuja in the Railway master plan. Speaking Gov. Obi said that Onitsha is very critical considering the volume of trade traffic the town carries. He said that whatever equitable criteria for determination of towns to benefit, that he was sure Onitsha would be eligible.
Responding, the Minister, Sen. Idris Umar who thanked them for working together in seeking the welfare of their people and by extension of Nigerians said that their request would be given due consideration and a reply given to them in two weeks.
Gov. Obi who also attended the Committee Federal Government Committee on Mass transport has called for the Federal Government to make a law to compel Government and her agencies to patronise made in Nigeria goods. He was speaking after he Committees meeting at the Conference Hall of the Minister of State for Trade and Investment, Dr. Samuel Ioraer Ortom.
He assured that the Committee, among others would come up with serious recommendations to the federal Governments, according to him, members are people of proven track records in the industry.