FG Scraps NECO, NAPEP, Abolishes UMTE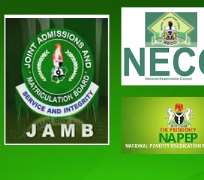 SAN FRANCISCO, April 03, (THEWILL) – The Federal Government has scrapped the National Examinations Council (NECO) and the National Poverty Eradication Programme (NAPEP).
It has also abolished the conduct of University Tertiary Matriculation Examination (UTME) by the Joint Admissions Matriculation Board (JAMB) thus decentralising the conduct of entrance examinations to universities and other tertiary institutions through the planned reorganisation of JAMB.
The Federal Government hinged the decision to scrap the two bodies and the abolition of the unified matriculation examination on the need to streamline the public sector and reduce the cost of governance.
Presidency sources , Tuesday, however hinged the decision on the recommendations of the Presidential Committee headed by former Head of the Civil Service of the Federation, Mr. Steve Oronsaye, on the Rationalisation and Restructuring of Federal Government Parastatals and Commissions.
President Goodluck Jonathan was said to have taken the decision after considering the White Paper on the Orosanye report along with Vice President Namadi Sambo.
The decision to scrap NECO, it was reliably gathered, is to return to the era when the West African Examinations Council (WAEC) was the only standard examination body in the country.
It would be recalled that the creation of NECO through the promulgation of a decree in April 1999 was one of the last acts of the Abdulsalam Abubakar administration. The creation had generated controversy in the country as many groups and organisations opposed it .

But with the recent development, the roles of JAMB will be scaled down, reducing it to a supervisory body that serves as both a clearing house and an administrative body geared towards monitoring admissions in order to check multiple offers and entries.
Also, JAMB will no longer conduct the UTME as tertiary institutions will be given a free hand to conduct tests and/or admit students.
"The clamour by universities that they should be given the chance to set standards for their admissions will be given the upper hand with this move," a presidency source stated.
President Jonathan however refused to approve the Oronsanye Committee's recommendation on the scrapping of the Economic and Financial Crimes Commission (EFCC), Federal Roads Safety Commission (FRSC) and the National Security Civil Defence Corps (NSCDC).
The presidential source further explained the reasons for the decisions.
"After the submission of the Orosanye report, the White Paper Committee undertook a detailed study and recommended that NECO be scrapped.
"A decision was also taken to stop UTME. Now universities will conduct their own exams. JAMB will be like UCAS in the UK. If you want, you can apply to any university of your choice.
"JAMB will become a clearing house. It will be like an administrative body. It will no longer conduct exams.
The purpose of this policy thrust is to encourage universities to conduct entrance exams and set standards for admissions, thereby eliminating the quota system."