ABSTRACT SUBMISSION DEADLINE EXTENDED!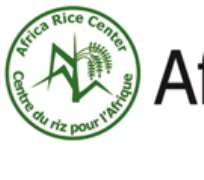 COTONOU, Benin, April 1, 2013/African Press Organization (APO)/ -- In response to numerous requests from partners, the abstract submission deadline has been extended till 30 April 2013.
Participants planning to present a paper or poster should submit an abstract to [email protected] by 30 April 2013.
For more information, visit the Congress website: http://www.africarice.org/arc2013/
The main theme of the 3rd Africa Rice Congress 2013 is : 'Rice Science for Food Security through Smallholder and Agri-business Development in Africa'.
The following sub-theme will be discussed :
Theme 1 Climate resilient rice for Africa's environments and markets
Theme 2 Sustainable intensification and diversification of rice based systems
Theme 3 Rice processing and marketing
Theme 4 Rice policy for food security through smallholder and agri-business development
Theme 5 Innovation systems and ICT tools for rice value chain development
Participation
The Africa Rice Congress 2013 is open to all those who are interested in the development of the rice sector in Africa.
Rice stakeholders from research, development, donor community, farmer associations, civil society, and private sector are especially invited to attend.
Paper / Poster submission
Participants planning to present a paper or poster are requested to submit an abstract to [email protected] by 30 April 2013.
Authors of abstracts that are accepted will be duly invited to develop full papers.
Format of abstract
1. Title of contribution
2. Authors (Name, initials, designation, institution) please indicate the presenting author by (*)
3. Abstract text: maximum 500 words (Indicate submission for oral presentation or poster)
4. Theme for which it is submitted (Select from themes of the 3rd Africa Rice Congress )
5. Contact person (Full name, address, phone, fax number and e-mail)
Registration fees
US$ 300 / Euro 230 / GBP 200 / CFA 150,000 for those registering before 15 June 2013!
Registration fee include participation in conference, exhibition, social events, field tour, lunch & coffee, and conference materials
Registration forms
Participants: PDF | Online
Payment procedure
Wire transfer Registration fee to AfricaRice bank account. For transfer details, contact [email protected], who will send an invoice for payment.
Contact
Secretariat-ARC2013
3rd Africa Rice Congress 2013
Africa Rice Center (AfricaRice)
01 B.P. 2031, Cotonou, Benin
Tel +229 6418 1313/6418 1414/6418 1515/6418 1616
Fax +229 6422 7809; +229 21 35 05 56
Email : Secretariat-ARC2013