INTER-FAITH UNIONS: SPIRITUAL SEEKERS AT CROSSROADS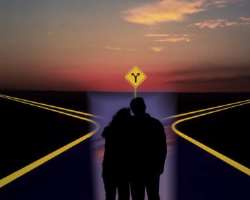 "All is change with time / the future none can see / the road you leave behind / ahead lies mystery!" – Stevie Wonder, "All in Love is Fair."
Interfaith marriage, traditionally called mixed marriage, is marriage (either religious or civil) between partners professing different religions.
Interfaith marriage typically connotes a marriage in which both partners remain adherents to their distinct religion, and as such it is distinct from concepts of religious conversion, religious assimilation, cultural assimilation, religious disaffiliation, and apostasy.
Nevertheless, despite the distinction, these issues typically are associated with many aspects of interfaith marriage.
Some religious doctrines prohibit interfaith marriage. Others traditionally oppose interfaith marriage but may allow it in limited circumstances. Several major religions have left the matter relatively unspecified and still others allow it entirely but with some requirements for ceremony and custom.
An ethno-religious group's resistance to interfaith marriage can constitute a form of self-segregation.
Nancy Goodman grew up in a Chicago suburb, raised by her parents in a Reform Judaic household. John O'Connell grew up in Peoria, Illinois, 160 miles southwest of Chicago, in a Roman Catholic household.
Despite their relative geographic proximity in Illinois it would be 1400 miles west of Peoria in the Intermoutain West of Pocatello, Idaho, where Nancy and John would meet and eventually marry.
Christians and Jews, two of the three religions, Islam being the third, that claim Abraham (Ibrahim in Islam) as their founder. Though they share a common heritage the similarity ends with the emergence of Christ and Mohammed in Christian and Islamic dogma and rituals.
So how did these two individuals, raised in two diverse religious traditions, find a common ground to worship and raise their daughter Lorelei in a Jewish community of very modest size in southeast Idaho.
Pocatello, Idaho is nestled in a valley with the Portneuf Range to the east and the Snake River Plain spreading out to the west. It's a community of 55,000 people, 90 percent are white and nearly two-thirds identify with a religious organization. More than half are Latter-day Saints and just over 6 percent identify themselves as Catholic. The Jewish community is so small that it doesn't register in the local census. It's so small that the congregation lacks a rabbi. Friday night services and high holidays are conducted by lay members. By John and Nancy's estimate the congregation totals about 150 people.
Over the years both Nancy and John had strayed somewhat from their respective religions but both continued to search for spiritual meaning to their lives.
For John, the Catholic Church's dogma and the literal interpretation of the New Testament became an impediment in his spiritual growth.
"It became hard to believe them literally," he said referring to the Church's dogma and teachings. Despite his flagging faith, John has still identifies as a Catholic, at least to a latent degree.
"I can still consider myself a Catholic by looking at these texts, these books, metaphorically. I've come to believe that's the way they were intended," John said.
"There is value in the words they're saying. You don't have to believe that the world was created in seven days or that if you eat a wafer that its actually transubstantiated into his physical flesh," he stated.
"You can understand that these words and stories have deep symbolism and they are metaphors," John said.
Nancy's spiritual search took her full circle from her Jewish roots, only to return to the Synagogue when she and John decided to marry.
"I would have to say my religious experience is before John and after John," Nancy said of her involvement within Pocatello's tight-knit Jewish community.
"I was raised very Jewish," Nancy said, "kind of similar to John, almost equivalent, I didn't go to a Jewish day school but I was involved in, I went to Hebrew school, I had a Bat Mitzvah."
But she wasn't drawn to the services and she evolved her religion experience during college to what she describes as a patch work spirituality, learning about different types of religions.
"When I met John I was probably at the peak of it, exploring Joseph Campbell, the idea that all religions really are the same and are the same at the core," Nancy said.
Even now she feels a strong spiritual identity with a unified, synthesis that harmonizes the sum of religions into one theological creed.
"But, I'd say culturally, I'd have to identify pretty strongly as Jewish," Nancy said.
It was when John and Nancy decided to marry that Nancy would return to her Jewish heritage. John wanted a wedding that held greater significance and symbolism than a mere ceremony before a Justice of the Peace.
"He wanted a more traditional wedding," Nancy said. "We went Jewish and it was really great and it really caused me to get more involved in the community, the Jewish community," she explained.
Since their wedding Nancy has become a member of the synagogue's board of directors.
These days they continue their spiritual search but they've also come to accept the comfort and community spirit found in services at the Pocatello synagogue.
"We certainly live a more Jewish life," Nancy said of their current religious affiliation.
"Part of the reason for that is just the fact that the Jewish community is so small and they really do need our participation. We're getting what we want out of the synagogue. It's fun, it's a close knit community. I like the community and that's more important to me than the dogma," John said.
"And he really loves cursing Pharaoh," Nancy said laughing.
Interfaith marriages have a few more challenges to face than couples of the same faith. Religious differences in interfaith marriages may create problems for interfaith couples, but usually these problems can be lessened when there is communication about the religious issues and stumbling blocks the interfaith couple will have to face.
For a nation as diverse as Nigeria, interfaith marriages are not rampant but there are several stories of great successes. So much so, it is so easy to find an extended family with a Muslim father, Christian mother, children that practice various faiths.
However as rampant as they may seem, they often occur with a circle of many religious taboos. Many a Christian home believe it is un-christian to be 'yoked' with an unbeliever, in this case yoked alludes to include marriage with a Muslim or other faith. Infact there are cases where even marriages outside certain denominations are not allowed.
For Muslims, under no conditions is a Muslim woman permitted to marry anyone but a Muslim man. The same verse cited above (2:221) mentions, "Nor marry your girls to unbelievers until they believe. A man slave who believes is better than an unbeliever...." No exception is given for women to marry Jews and Christians, so the law stands that she may only marry a believing (Muslim) man. As head of the household, the husband provides leadership for the family. A Muslim woman does not follow the leadership of someone who does not share her faith and values.
For Ifeanyi Okoro, and Ameenah Braimoh (real names withheld) it was double jeopardy.
Ifeanyi grew in a typical Southern Lagos community where the perception on religious faiths are relaxed. He did a few classes in Islam at college. While for Ameenah it was a different ball game, raised as Muslim in strict Northern fashion.
For both "we never saw it coming, getting married was out of the question, but you never say never". Said Ifeanyi.
"My father is a Christian clergy, and we are Igbos, there is a mutual unwritten enmity stemming from the Nigerian civil war and other political factors, if that wasn't bad, they were Muslims...". He added.
Years of political difference between the dominant group in the South have not helped matters.
For Ameenah it was even more difficult "For almost a year I couldn't tell them at home. He used to come home, my folks knew him, just as a friend there was no problem. But as a prospective suitor, no-way".
So for over a year they simply courted secretly. For Ifeanyi, he knew he could have rode on religious grounds if she was Christian.
And Ameenah could count on the fact that he spoke their language. "If only he was Muslim, my few friends who knew then would say". Ameenah added.
Through thick and thin they finally did get married, at the Central Mosque of the Ahmaddiya Movement. There was equally a traditional engagement and solemnization, none of which the bridegroom's family attended.
"My family refused to be part of it, luckily I had friends who believed in the union and they all made up for the absence of my immediate family".
This story is not different from that of our couple in the United States, but highlights the challenges of spirituality in the place of life without the understanding of each other and love.
The union of Ifeanyi and Ameenah is blessed with three kids, each name reflective of religion, and ethnic differences. Here in Nigeria, these unions play a very strong role in strengthening the nation.
It is interesting that they make their home in Kaduna which is central in Christian/Muslim tensions.
Yes, finally after several years, Ameenah did become a Christian, she says "Its more of choice and had absolutely nothing to do with the marriage, had I married a Muslim, I most definitely would have remained one".
Importantly in these interfaith unions is the place of fate and destiny. We often are practitioners of our various faith by reason of birth and choice to remain so or otherwise.
Ifeanyi remains an enigma of religious tolerance despite rapidly deterioration of mutual understand amongst Christian and Muslims.
All these is in a Nigeria, where according to a deeply debated 2003 report, 50.4% of Nigeria's population are Muslims, 48.2% are Christians and 1.4% adhere to other religions. Among Christians, 27.8% are Catholic, 31.5% are Protestant and 40.7% belong to other Christian denominations.
The core north is largely Muslim, there are large numbers of both Muslims and Christians in the Middle Belt, including the Federal Capital Territory. In the west of the country, especially in the Yorubaland, the population is said to be evenly divided between Muslims and Christians, while in the southeastern regions are predominantly Christians with widespread traditional beliefs, Catholics, Anglicans, and Methodists are the majority with few traditional beliefs, while the Niger Delta region is mainly Christian.
Finally the crossroads is understood for John, Ifeanyi, Nancy and Ameenah, in a light like this--Inter-ethnic conflict in Nigeria has generally had a religious element. Riots against Igbo in 1953 and in the 1960s in the north were said to be fired by religious conflict. The riots against Igbo in the north in 1966 were said to have been inspired by radio reports of mistreatment of Muslims in the south. In the 1980s, serious outbreaks between Christians and Muslims occurred in Kafanchan in southern Kaduna State in a border area between the two religions.
Recently, there has been an upsurge in attacks targeting Christians in northern Nigeria, culminating in the Christmas Day massacre at a catholic church near the Federal Capital Territory. The radical Islamist sect, Boko Haram, claimed responsibility for the bomb blast.
Understanding does it and all is fair in love.
Written By Prince Charles Dickson and Bill Schaefer
Disclaimer:

"The views/contents expressed in this article are the sole responsibility of the author(s) and do not necessarily reflect those of The Nigerian Voice. The Nigerian Voice will not be responsible or liable for any inaccurate or incorrect statements contained in this article."
Articles by thewillnigeria.com