UPDATED: Bill Clinton Undergoes Heart Surgery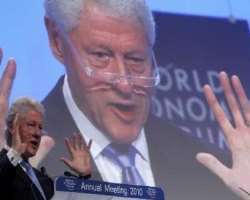 San Francisco Feb 11, (THEWILL) – Former US President, Bill Clinton, 63, had a surgical procedure at a New York hospital on Thursday after experiencing a series of discomfort in the chest.
A statement from his counselor Douglas Band said: "Today President Bill Clinton was admitted to the Columbia Campus of New York Presbyterian Hospital after feeling discomfort in his chest."
"Following a visit to his cardiologist, he underwent a procedure to place two stents in one of his coronary arteries. President Clinton is in good spirits, and will continue to focus on the work of his Foundation and Haiti's relief and long-term recovery efforts. In 2004, President Clinton underwent a successful quadruple bypass operation to free four blocked arteries," Douglas Band said.
A stent is a tiny tube that is inserted into a narrowed or blocked vessel to open it up and allow blood to travel through, CNN's Dr. Sanjay Gupta explained.
His wife, US Secretary of State, Hillary Clinton and daughter Chelsea are with him at the hospital. Hillary left her weekly meeting with Obama on Thursday at the White House to be with Bill.
Sometime in 2004, Bill Clinton had a quadruple bypass surgery to repair a heart defect.
At a press conference right in front of the hospital, one of the doctors who performed the procedure said it was successful and that Bill would be released tomorrow (Friday) and should be at work on Monday.
The former president has been very active lately doing a lot of humanitarian work in Haiti and was also at the World Economic Forum in Davos, Switzerland in January.