Anambra State Government open condolence and tribute registers for Chinua Achebe in Awka, Abuja and Lagos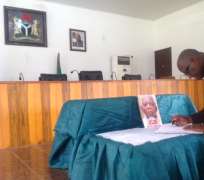 QUOTE: by SSG Oseloka Obaze
"We are deeply saddened by this tremendous loss of a humble patriot, who though genteel, was widely acknowledged as a legend in his lifetime. Personally, my wife Ofunne and I, were privileged to be considered his friend. Chinua ACHEBE was a role model to us and many across nationalities and across continents. He was a social and political activist and most importantly, a humanist and unrepentant social conscience of Nigeria. He was a true Igbo Icon and an eminent Nigerian beyond adjectival qualification." --- SSG Oseloka H. Obaze
HE Deputy Gov. Emeka Sibeudu, Chief of Staff Prof. Stella Chinyere Okunna and other senior officials wait to sign the condolence and tribute book...
H. E. Mr Emeka Sibeudu, the Deputy Governor signs the condolence and tribute book. The book will be published as a repository of the expression of the love and appreciation Ndi Anambra have their great son, Chinua Achebe.
SSG Oseloka H. Obaze briefs the media on the envisaged role of the Anambra State Government in Achebe's burial. He said "the fInal decision on the burial plans will await the return of Gov. Peter Obi who went to Rhode Island to confer and commiserate with the Achebe family."
SSG Oseloka Obaze briefs the media..."Achebe was a legend in his lifetime......"
SSG Oseloka Obaze signs the condolence and tribute the Government House, Awka