ANAMBRA: Uba Accepts Defeat, Congratulates Governor Obi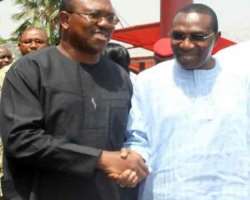 photo: L-R: GOVERNOR PETER OBI AND DR. ANDY UBA IN A HANDSHAKE ON MONDAY IN AWKA.
San Francisco Feb 08, (THEWILL) – One of the candidates in the February 06, gubernatorial election in Anambra State, Dr. Andy Uba of the Labour Party has accepted defeated and congratulated Governor Peter Obi, the winner of the poll.
Uba in the company of his brother, Senator Ugochukwu Uba, some political associates and supporters on Monday paid the governor a visit at the Government Lodge in Amawbia, Awka, Anambra State.
During his address, Uba faulted INEC for conducting a flawed election but said he would not challenge Obi's victory in court while promising to give the governor all the necessary support required to develop the state.
"I will give you all the necessary support for you to succeed. This is our state and if anything should happen, all of us will be blamed for it and not only one person," Uba pleged.
Acknowledging Uba's overtures, Governor Obi congratulated him for his "courage and gentlemanly behaviour" adding that Uba was the only candidate that didn't castigate his opponents during the campaigns.
Governor Obi also added that he intends to convene a summit where other politicians would participate to discuss and evaluate political campaigns in Nigeria to enable them see it as an avenue to sell their ideas rather than using it to call their opponents names.
Another candidate in the election, Professor Charles Soludu of the PDP had earlier accepted defeat and congratulated the governor.
Also on Monday, Senate President David Mark and the leadership of the Peoples Democratic party, PDP, congratulated the governor on his victory at the election.
|
Article source