Toyota Set To Recall Its 2010 Prius Hybrid Cars Worldwide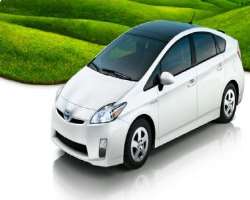 San Francisco Feb 08, (THEWILL) – Car giant Toyota may announce a global recall of its 2010 Prius hybrid vehicles on Tuesday because of a faulty braking software, according to a CNN report.
The Lexus HS250H would also be recalled.
Totoya said it was close to finding a solution to a software problem that has affected the anti-lock braking system of the 2010 edition of the Prius.
Last week, the company admitted that the Prius had brake related problems after selling more than 300, 000 units of the vehicle worldwide.
When the problem was formally brought to Toyota's attention last week, Toyota executives described it as a mere monumental delay in breaking when the car is driven on a slippery or bumpy road.
The United States National Highway Safety Administration on Thursday announced it was opening a formal investigation into the braking problems associated with the 2010 Prius.
Toyota's safety record has recently been questioned after it announced a major recall of most of its vehicles including some Lexus models because of faulty brakes.