Akunyili Threatens To Sue Aondoakaa As Council Debates Memo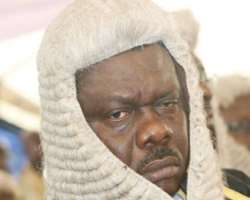 PHOTO: CONTROVERSIAL ATTORNEY GENERAL, MICHAEL AONDOAKAA.
San Francisco Feb 09, (THEWILL) – Information Minister, Dora Akunyili has threatened to sue controversial Attorney General and Minister of Justice, Michael Aondoakaa over defamatory comments he made recently in a newspaper interview.
Dora in a statement made public on Tuesday gave Aondoakaa seven days to retract his comments, which she described as libelous. Andoakaa's comments in the interview described Professor Akunyili as "a cheap hero" who was trying to make herself an angel. "Let her go confront herself with what happened in NAFDAC," Aondoakaa said in The Nation newspaper interview.
The disagreement between both members of the executive council is hinged on a memo tabled for discussion last week urging the council to take steps towards making the vice president acting president and commander-in-chief of the armed forces.
Meanwhile, the Council would meet on Wednesday (tomorrow) and may deliberate on the memo presented by the Akunyili. By virtue of the 1999 Constitution the Council could declare the president unfit to rule which would then open up the process of making the vice president acting president.
|
Article source