Jos Crisis: Over 100 Victims Buried In One Year, Says Council Boss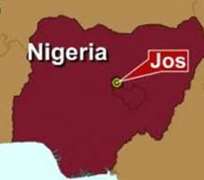 SAN FRANCISCO, March 21, (THEWILL) - Over 100 victims of serial attacks on the people of Riyom Local Government Council of Plateau State were buried within a year.
Chairman of the council, Engr. Sam Gyang Audu, who disclosed this, Thursday, at a media briefing in Jos, the state capital, also lamented that his council had spent over N5 million in treating over 60 persons who sustained gunshot injuries from these attacks.
He made the disclosures while explaining the circumstances that led to the recent face-off between women of his council and the men of the Special Task Force (STF).
Decrying what he described as the complicity of the STF on Jos crisis, the council chairman blamed the frequent attacks on the attempt by the Fulani to acquire the Berom ancestral land by conquest, lamenting that the military has failed to put an end to the attacks.
"Whenever the crisis is about to end, the soldiers of the STF trigger it up again as if to make their continuous stay on the Plateau relevant," he alleged.
He however appealed to the Federal Government to begin to make plans for a gradual withdrawal of the Task Force from his council and replace them with conventional police and other security agencies.
He said at the site of the recent attack, identity card and cheque booklet of a military Private bearing, Abubakar Shuaibu, were found, indicating that the soldiers know about the attacks.
He also accused the STF of inflicting injuries on several women during the face-off resulting from unannounced search exercise for arms in a Rim village in his council, adding that one of the women in the village had her right leg fractured by men of the STF.
He disclosed that it was at this point that women started screaming and chanting slogans and mobilising all women to demonstrate against what the soldiers were doing. According to him, the STF personnel eventually got angry and used whip and buts of their guns to beat the women and children.
"We are calling on the Federal Government to withdraw the STF as we believe that what remains of the peace process between the Berom and Fulani can be achieved by dialogue with each other without the need to enforce peace by the soldiers," he said.