Zenith Bank Nigeria Listed On London Stock Exchange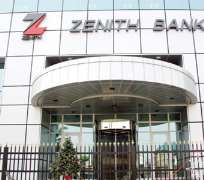 … Bank lists Global Depository Receipts on Main Market
… GDR, the largest by any Nigerian Bank

… GDRs to trade on International Order Book, world's leading GDR market
SAN FRANCISCO, March 21, (THEWILL) – The London Stock Exchange Thursday announced the listing of shares of one of Nigeria's largest banks, Zenith Bank Nigeria Plc. on the exchange.
"London Stock Exchange welcomes today Zenith Bank, one of Nigeria's largest banks, to its Main Market," the stock exchange said in a release.
Part of the release reads, "The company is listing Global Depository Receipts (GDRs) in London, giving the bank access to a wide range of major institutional investors and significantly raising its international profile. The company's market capitalisation at listing was $4.24 billion.
Zenith Bank is admitting 125 million GDRs which will trade on London Stock Exchange's International Order Book, the world's largest and most liquid GDR market. Each Zenith Bank GDR represents 50 ordinary shares.
Zenith's listing means that the largest Nigerian bank by tier-1 capital is now listed in London. The bank joins a vibrant community of 58 emerging market banks listed in London, valued collectively at just under $75 billion. The listing also gives Zenith access to the deepest international pool of capital in the world, currently holding more than $1.8 trillion in international equity assets. It joins five other companies on London Stock Exchange's markets that have major operations in Nigeria.
London Stock Exchange is the largest international stock exchange for African companies. Since 2008, Africa-focused companies listed on London Stock Exchange have raised over £4.2 billion in new and further issues.
97 Sub-Sahara African focussed companies are listed on or admitted to London Stock Exchange Markets, comprising:
• 23 equity listings on Main Market
• 2 GDR listings on Main Market
• 70 equity admissions on AIM
• 2 GDR listings on PSM.

Ibukun Adebayo, Head of Primary Markets, Africa at London Stock Exchange, said: "Zenith Bank's listing highlights London's leading role in supporting Nigeria's burgeoning financial sector. Three major Nigerian banks have listed in London demonstrating UK and international investors' appetite for exposure to this fast growing and increasingly diverse economy."
Zenith Bank is headquartered in Nigeria, with subsidiaries in the UK, Ghana, Sierra Leone, The Gambia and representative offices in South Africa and China. With a customer base of over two million accounts spread across 366 branches and total assets of $27bn, it is one of the leading Nigerian banks on virtually all parameters."