House Restates Commitment To Block Revenue Leakages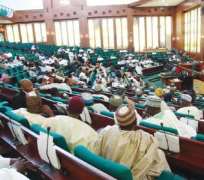 .....Says immunity clause to strengthen democracy
ABUJA, March 17, (THEWILL) – The House of Representatives has said it has begun the process to come with a law that would help in blocking revenue leakages as well as forestall non-remittance by revenue generating government-owned corporations and agencies.
Chairman of the House Committee on Finance, Hon. Abdulmumin Jibril (PDP, Kano), who disclosed this in Abuja said that the draft amendment Bills to Acts establishing the affected bodies were ready to be presented soon, while efforts were also on to repeal and re-enact the Fiscal Responsibility Act, 2007, especially to give the Fiscal Responsibility Commission power of to sanction erring agencies.
According to Jibril, "The biggest challenge to us as a committee is the Nigerian Nation Petroleum Corporation (NNPC). It has never remitted a dime to the Consolidated Revenue Fund of the Federation." Jibril stated that the committee discovered that from 2009, the Corporation generated over six trillion Naira, but that the Group Managing Director (GMD) was only compelled to appear only with threat of bench warrant of arrest.
He noted that the Committee's efforts had begun to yield positive results as the Central Bank of Nigeria (CBN) had remitted N80 billion out of the N95 billion it withheld, and the Nigerian Ports Authority had paid over N20 billion of its withheld revenue, vowing that NNPC and all other agencies "must pay."
In a related development, the House has explained that the National Assembly was united on immunity for lawmakers explaining that what the constitutional amendment Bills were rather asking for was "just speech immunity to guarantee members' freedom of expression on the floor and in committee sittings."
Chairman House committee on media and public affairs, Hon. Zakari Mohammed, alongside sponsors of the two controversial Bills, Ali Ahmed and Ralph Igbokwe, at a media chat over the weekend explained that House was driven by the passion to strengthen democratic institutions.
According to Mohammed, seven Malawians lawmakers were currently facing trial for treasonable felony over what they said on the floor of the parliament. "What we are saying is we don't have to wait until such happen in Nigeria before we take action," he said.
The lawmakers argued that provisions of the Legislative Houses Powers and Privileges Act of 1953, were, apart from its age, inadequate, and that the speech immunity being sought would only be within the legislative house premises.