AWOL Edevbie Surfaces In Dubai, As Turai Turns Down Sultan Of Sokoto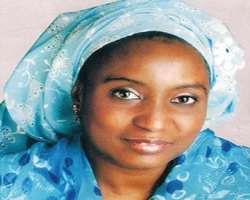 PHOTO: FIRST LADY HAJIYA TURAI YAR'ADUA.
San Francisco Feb 06, (THEWILL) – Mr. David Edevbie, President Musa Yar'Adua's Principal Secretary has surfaced in Dubai, UAE after evading the media for days. But Edevbie is however stranded in the arab city as he is yet to receive clearance from Turai Yar'adua to proceed to Jeddah to deliver documents that require the president's attention.
Edevbie left Abuja early last week with files containing documents, which may have included the Senate resolution demanding a vacation letter from the ailing president.
THEWILL has also gathered that the first lady has also turned down a request by the respected and powerful Sultan of Sokoto, Sultan Sa'ad Abubakar to visit the President in Jeddah. The Sultan's request came in the wake of various speculations on the President's health.
Turai Yar'Adua who many believe is the only one with access to the President has of late deliberately cut off communication between the President and the entire executive arm of government.
|
Article source