GOVERNOR PETER OBI CONGRATULATES THE NEW POPE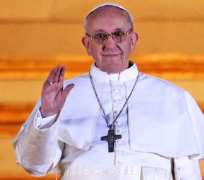 Governor Peter Obi has joined billions throughout the world to celebrate the emergence of the new pope describing it as the continuation of the fulfillment of Christ to his Church that the gate of hell shall not prevail against her.
Describing the emergence of the new Pope as the triumph of a process, he insisted that one vital lesson that Nigerian should draw from that, as he has always insisted, is that the process of being elected into any position is far more fundamental that what the person elected does thereafter.
Speaking further, he said that with the emergence of the new pope, that what was required now was for everybody to join the Church in prayers for the great task ahead of the successor of St. Peter, the prince of the Apostles.
Describing the new Pope, His Holiness Pope Francis, formerly Cardinal Jorge Mario Bergoglio, as a deeply intellectual and religious leader, he said he did very well as Bishop of Buenos Aires and will most certainly do well as the Pope with the support of our prayers.