Meet Nigeria's Hollywood film maker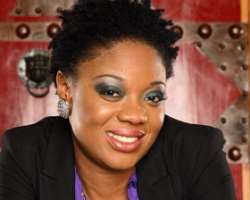 Born and raised in Abuja, Nigeria, Chineze Anayaene graduated from Regina Pacis College Abuja, and later attended the University of Abuja.
In 2005, she travelled to Los Angeles, California and began a one year film making program at the New York Film Academy.
Anyaene was recognized for creating an outstanding epic folktale, which stood out as the best foreign film of her graduating class. Immediately she enrolled for the Masters Degree program to master the art of film making. Anyaene is the first student in the history of the New York Film Academy to shoot a feature film while in school.
She's today the youngest female film mker in Nigeria, and she is also the first student in the history of Kodak to shoot a feature film on 35MM raising the bar for the Nollywood film industry.
Chineze Anyaene is the founder of Xandria Productions and though Anyaene is a first time feature director, her credits include 12 short films, two commercials, and one music video.
Ambitious and talented, she believes in the power of her ideas and her ability to bring them to fruition on the big screen.
She's currently breaking new grounds with Xandria Productions', IJE: The Journey which tells the story of two sisters with unbreakable bonds of loyalty and the power of the human spirit Through this production, Anyaene brings the improvement in quality that is essential in order for Nollywood to make its mark in the global film industry.
She will be the guest of Saturday Vanguard team on Monday.
Story by vanguardngr.com