Five Killed In Militant Attack On Police Camp In Kashmir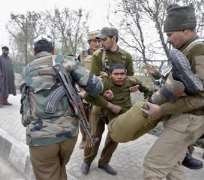 Two militants hiding automatic rifles and grenades in cricket kit opened fire on a paramilitary camp on the Indian side of Kashmir on Wednesday, killing five Indian personnel and wounding five, police said.
The militants were killed in a gunfight at the Central Reserve Police Force (CRPF) base just outside the restive city of Srinagar, which has been under curfew for much of the last few weeks following protests and clashes with police.
Local media reports said that Hizbul Mujahideen, the bitterly disputed region's largest militant group, had claimed responsibility for the attack, in which three civilians were also wounded.
Police said the gunmen approached the camp by mingling with children playing cricket in a nearby field, hiding their weapons in cricket kit they were carrying. Once at the camp, they shot a sentry dead and then fired indiscriminately into the base.
"A division of the CRPF was deployed at a camp here and children were playing cricket in the field when two militants fired grenades and attacked our division," Abdul Gani Mir, Inspector General of Police, told Reuters TV. "We have lost five of our CRPF personnel who gunned down the two militants."
One police official said earlier the gunmen were dressed as cricketers.
Militants often attacked security bases in Kashmir during the 1990s, when there was a full-blown insurgency against Indian rule in a region over which India and Pakistan fought two of their three wars. But there have been very few in recent years.
Hizbul Mujahideen, the most active militant group in Kashmir during the height of the unrest, wants Kashmir to become part of predominantly Muslim Pakistan. Nuclear-armed India and Pakistan both claim the region of Kashmir in full but rule it in part.
Tensions have been running high in Srinagar since last month, when India hanged a Kashmiri man for an attack on the country's parliament in 2001. The authorities have sought to quash clashes between protesters and police by imposing curfews.
Police said a group of youths hurled stones at a vehicle taking those who were injured in the paramilitary camp attack to hospital, and one of them was injured when CRPF officials opened fire. A hospital official said the youth subsequently died.
REUTERS