I CAN'T BE PARANOID OF BAMIDELE - SEN OJUDU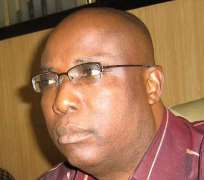 By DAPO AKINREFON
…He should stop seeing me as the obstacle to his ambition
SENATOR Babafemi Ojudu, who represents Ekiti Central Senatorial District in the Senate on the platform of the Action Congress of Nigerian, ACN, in this interview speaks on the politics of Ekiti State ahead the 2014 governorship election and debunks claims that he is paranoid of Mr. Opeyemi Bamidele as alleged by the latter. Excerpts:
Could you react to claims that in 2011 the ACN directed Mr Opeyemi to hand over the senatorial ticket to you?
Isn't that laughable? How could somebody who is so popular be asked to drop a ticket for someone who is unpopular? Is there any logic in that? Opeyemi is deluded. Let us leave him to wallow in his delusion.
Is it also true that you are paranoid about Bamidele because you feel he is scheming to go after your seat in 2015?
Paranoid? I have done political work in Ekiti State for more than 15 years before he discovered Ekiti. Is he alleging that now? Yesterday it was Otunba Adebayo he alleged was trying to take his chance of running for Senate from him and not me. If you know the battle Otunba fought on his behalf and the way he goes about condemning Otunba now you will know the kind of person Opeyemi is. And he is doing that because the man said he could not support him against Governor Kayode Fayemi.
Sen Ojudu.
You have been accused of fueling a crisis between Governor Fayemi and Bamidele?
I don't have to do that and those who know me and my antecedent will know I am not given to such. Ask Opeyemi if I am the one who goes about saying that he expended N1Billion on Governor Fayemi's campaign. Ask him if I am the author of the several tape recordings of his meetings with the opposition in Abuja and Akure that are flying around all over Ekiti.
Ask him why he is not in good terms with Otunba Niyi Adebayo, his major supporter in Ekiti during the course of our primary elections. Ask him if I was the one who set up campaign structures for him in all the wards of Ekiti in preparation for his so called bid for governorship. Ask him if I am the one responsible for his touted ambition. Ask him if I am the pastors who have pushed him out to aim at what he could not get. I do not know what is between him and Fayemi and I have never discussed Opeyemi with anyone. In fact, it was Opeyemi who has tried to discuss Fayemi with me.
When he tried to discuss his ambition and Fayemi with me at the launch of Emeka Nwosu's book I refused to pay him attention and I will not no matter what he says about me. This is typical of Opeyemi, go and ask everyone who has had any dealing with him, either at the student union level, Oodua Self Determination Groups level in Lagos State or in exile in America, they will tell you who he is
Were you at any time a member of the PDP? Were you at anytime a close ally of former governor of the state, Mr Ayo Fayose before joining the ACN?
Never! You know me. You know my antecedent. You know my politics. I have never departed from who I am since I was in the university. This is a matter of public knowledge. I fought Fayose from the moment he was sworn in as governor of Ekiti State and I didn't let go until I got him out of there. You know how long I have been an ally of Asiwaju Bola Ahmed Tinubu, Mr. Femi Falana, late Beko Ransome Kuti, Alao Aka Bashorun, Rauf Aregbesola, Campaign for Democracy, Committee for the Defence of Human Rights, Afenifere Renewal Group, and other progressives of Nigeria politics. I know where I belong and I will never shift.
Did you also work closely with Engineer Segun Oni before he was ousted by the Court of Appeal?
How could I? Ask Fayemi. Ask Asiwaju. Ask Ogbeni Rauf Aregbesola. Ask Falana. Do textual analysis of my publications. Take a look at my public engagements and you will know which side I was and I am now. That is not to say that Oni is not my friend. He is and will continue to be. We belong to the same group as Fayemi in Ekiti.
I was with Fayemi from day one to the day he won and those who know me unlike Opeyemi who showed appearance only when he thought things were going Fayemi's way, will tell you my house in Ekiti was the centre of activities from day one of our bid for the governorship of Ekiti. When we lost we gathered there and cried, when we won we celebrated there.
What do you think is responsible for the rift between you and Bamidele?
It is about ambition and the presumption that he must win at all cost.
Are you not disturbed that the altercation between you and Bamidele might affect the chances of your party in 2014?
Certainly not! The party and the governor are doing well in Ekiti. I would not have responded to this but to set the record straight as requested by you. This is not important for our work in Ekiti. What is important is providing good roads, good hospitals, decent schools, clean environment, reducing unemployment, fighting poverty, empowering our women, building the next generation of leaders and building a good image for Ekiti and the governor is doing a pretty job of that. Bamidele has his right to aim to become whatever he wants to become. Let him go there and do his work and leave the rest to the people. He should stop seeing me as the obstacle to his ambition.
How far do you think the newly formed All Progressive Congress, APC, can go in gaining control of power at the centre?
It may just be the best thing to happen to this country in the circumstance we find ourselves. The PDP has found its match in APC and it's just a matter of time for us to tear the umbrella and sweep off the dirt.
The Petroleum Industry Bill, PIB, has already passed second reading, how optimistic are you that the bill will become an act?
It will be after it has gone through all the processes. No bill comes perfect. One or two things must be added and subtracted and this for me is what will happen in the case of PIB. There are things that are unacceptable that will have to be taken out.