Senators Dismiss 2-Year Marriage Restriction For Female Security Personnel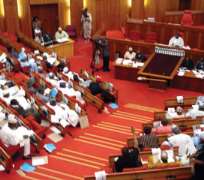 ... Approve 5 Appointees For Federal Civil Service
ABUJA, March 12, (THEWILL) - The Senate has described as "discriminatory and obnoxious", a unified service rule, which provides that female officers recruited into all military, Nigeria Police Force and paramilitary organizations must stay unmarried for two years after which a request can be made for express permission to marry.
The provision is contained in Section 1(d) of the Official Gazette of No 15, Vol. 90 of March 2003.
Also the Senate on Tuesday approved five nominees for appointment as members of the Federal Civil Service Commission (FCSC). They are: Mrs. Ngozi Agatha Etolue from Anambra State (representing Ebonyi, Anambra, Enugu); Hon. Hope Odhuluma Ikiriko from Rivers State (representing Bayelsa, Rivers, Delta); Prof. Aminu Diyo Sheidu from Kogi State (representing Kogi, Kwara); Mr. Emmanuel Chimezie Ihedioha from Abia State (representing Imo, Abia) and Mr. Joseph Olufemi Akande from Osun (representing Osun, Oyo).
Senators during debate insisted that the rule provided in Section 1(d) of the Official Gazette of No 15) was in conflict with Section 42 of the 1999 Constitution (as amended) which expressly prohibits discrimination on the ground of age, religion, political opinion, ethnicity or sex.
The Upper Chamber nonetheless rejected a bid to repeal the "offensive" section from the constitution.
These actions were the high point of the Senate consideration and adoption of a report of its Committee on Ethics, Priviledges and Public Petitions in respect of a petition from Mrs. Inimfon Chris on the discrimination against the female gender in the recruitment exercise into the Federal Service, specifically the Nigerian Custom Service.
Inimfon according to the Committee's chairman, Senator Ayo Akinyelure was sacked from the Customs following the fraudulent breach of the contentious rule.
The report's findings/observations read: "It was observed that the petitioner is not actually fighting for re-instatement back to Nigeria Custom Service but for the generality of female gender that are being discriminated against under the provision of the federal government of Nigeria Official Gazette No 15, Vol. 90 Section 1 (d) which deals with appointment of female officers into Nigeria Custom Service...
"This is a provision of a general application as claimed by the representative of Nigeria Custom Service and cannot be exempted for a particular person, unless the provision is generally expunged or reversed by the relevant authority for general application as the case may be in all unified service."