Why Governor Of Anambra State, Mr. Peter Obi May Have Lost The Gubernatorial Elections Of February 6, 2010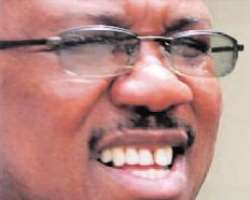 The lullabies of a diminished promise of the APGA project may have begun its wailings in notes too saddening to re-conjure. And inside the government quarters in Awka, Anambra State where the lone Igbo project may have suffered its final and bloodless abortion, sits an innocent and probably qualified leader, in the person of Governor Peter Obi. And facing him is the soaking uncertainty of his 2nd term hovering carefree over the outcome of February 6, 2010 polling exercise.
The peculiarities of Governor Peter Obi's ascension to power in the Anambra political scene tell a story too strong to wish away from the pages of Nigerian political and judicial History. His successful and valiant tussle against the Abuja cabal responsible for the hoist of Chris Ngige to the seat of Governor and the hoist of Nnamdi Uba to the same seat of Governor – saw public sympathy at its highest glow towards the candidate and litigant, Mr. Peter Obi - who enjoyed high ovations. David had defected Goliath in two bouts.
But the period leading up to Anambra 2010 elections, appears to show indicators that all might not be well with the Governor's ranking among the people of Anambra. Both the rank and file and the political class appear unsettled by the Governor's 1st term. The manner with which Governor Peter Obi's stock sunk has surprisingly began to sip out to the open arena.
This is as the preparations for the upcoming gubernatorial elections in Anambra appear to have reached its hottest temperature. And as the final days to the Election Day approaches, the race has become difficult to predict. Two independent opinion polls hoisted the candidature of the former Central Bank Governor, Prof Chukwuma Soludo as the likely winner of the upcoming electoral exercise – while another independent poll hoisted the governor of Anambra State, Dr. Chris Ngige as the likely winner. Interestingly, none of the independent polls predicted a victory for the incumbent governor - it poses a puzzling ordeal.
Governor Peter Obi's weak performance in repeated opinion polls as Ukpakareports.com investigation gathered may have been based on what the public in Anambra believe to be the result of administrative maladies that had plagued the administration.
In the words of an Anambra citizen and a veteran Vanguard correspondent in the South East, Anayo Okoli, "I think he did some work in the area of infrastructural improvement but failed woefully in the areas of employment. No single servant was employed in his four years. Empowerment of the people was zero. He created more poverty than he met. And of course the last two items are the most important dividends of democracy." A similar and more unforgiving notion is shared by a former member of the Anambra State House of Assembly in the person of Hon. Bona Oraekwe. As he adds, "He failed to keep his electoral promises: to industrialize Anambra but did not build an industry except to personally buy State shares in some existing industries; to fight crime with employment but only started interviewing this month when he was reminded that he has not employed a single person, and he kept lying and deceiving Ndi Anambra all along." Dr. Ken Anozie, a stakeholder in Anambra political affairs, notes that "Peter lacks the ingredient of the human touch required of a political leader and he has played the religious card to a dangerous dimension. The people are not factored."
But not all of Peter Obi's political opponents are as unforgiving as to his chances at the polls. The factional APGA chairman for Anambra State, Dr. Okey Umeano opined that "Peter Obi may win. Ngige is in a wrong party. Anambra might not vote a Yoruba party and PDP is split into many factions." But a one-time governor of Anambra State, Dr. C. Mbadinuju, blows away the same victory chances for Peter Obi. According to him, "Every Governor whoever ruled both old and new Anambra from Zik to Jim to Onoh to Ezeife to Odera to Ngige to Andy ruled for one term. It has become a pattern. There is nothing Peter Obi did to upturn the well established pattern. Let Obi go and rest and not disturb the system."
Also, espousing on the apparent and diminished support is a veteran political analyst in the State and a one time gubernatorial candidate in the person of Okey Muo Aroh. In his take, "Peter Obi lacks the organizational structure and political wisdom to fight a close election. His tentative posturing and dishonesty cost him the support of the masses and the elites. The critical support of his core staff cannot be guaranteed as a result of his neglect." Similar sentiments are echoed by a former avid supporter and a co-fraternity member who had served in the Anambra State House of Assembly. He notes, "Peter Obi will not win the election. He has not been a sincere person. He is nepotic. His party leader and all appointed market heads are from Agulu, crime is on the rise. He promised to fight crime with jobs. For four years, he did not employ a single civil servant. He is now advertising jobs-a week to the elections. Too little, too late. No one is deceived. He openly introduced Church politics to Anambra State. God is not a politician. Peter is mocking God. No one wants the Lebanese or Irish carnage based on religion in Anambra State. Peter introduced deep acrimonious animosity between the Constitutional Local Government System and Town Unions by bribing the later serially to replace his party structure and politicians who he described as jobless miscreants only good at wearing red caps. We have not felt the impact of over N350billion received on behalf of Anambrarians. Where is the money? Dubai? Malaysia? London? Abuja or Lagos? Or all put together?"
This comes on the heels of mounting financial allegations against the incumbent Governor – of using direct labor to subvert due process and in turn siphon State monies to the tune of N2.8billion. As Ukpakareports.com gathered through credible sources within the Ministry of Works, over N1.3billion in supposed contracts were carried out under direct labor arraignment [without the necessary bidding] – where the Governor directly hires and pays the workers. At the Ministry of Environment, over N800million supposed contracts were carried out under direct labor arraignment and at the Ministry of Public Utilities, over N700million in supposed contracts were carried out under the direct labor arrangement.

It was to this effect that would be foreign donors to Anambra State insisted to the Governor to pass into a law a Due Process Bill as a condition to receiving further grants. Governor Peter Obi was said to be initially responsive as he immediately drafted up a Due Process Bill for submission to the Anambra State House of Assembly. The Bill was submitted to the House but later withdrawn dramatically and never resubmitted.
The Governor's mishandling of the Local Government system of governance has placed his administration at the forefront of financial misgivings. This is particular among the political class. As gathered, it remains uncertain why the Peter Obi administration failed or refused to conduct LGA elections but credible information indicate that Peter Obi's financial prowess in the ongoing gubernatorial election may have been financed by federal allocated funds to the 21 LGAs in Anambra State. According to official figures, Anambra State receives an estimated amount of N1.4billion monthly [N15.1billion annually] on behalf of the LGA. In the four years of Peter Obi's administration, it received N61billion for the LGA.
It is on this strength that a lawmaker representing one of the two Aguata constituencies, Sir Tim Egboka told our correspondent that "He [Peter Obi] is an agent of mediocrity and undemocratic forces."
Former supporter and a renowned Human Rights activist in the person of Barrister Chuka Obele Chuka share the same disappointment with the performance of the Obi administration. He adds, "For me there exist two indices of assessing Obi. First is what he did for or in Anambra State or in Agulu or Anambra people before he became governor. Second is what he used over N300billion our commonwealth in terms of federal allocations, VAT, Ecological funds, Grants, Donations, from local institutions such as the N2billion NIDB grant, Intercontinental, Skye, UBA, Fidelity donations, the IGR N32billion, counterpart funds provided by UNICEF, WHO, USAAID, DFID, and other international agencies? On the first issue, prior to Obis ascension to power and till date, he has no single investment in Anambra or Igbo land inspite of his claim of multimillionaire status. He has infact, no stake in Anambra. He has not set up any factory, warehouse, or office in Anambra or Igbo land. He doesn't even have a house in Agulu or Igbo Land. He lives in his parent's house. He did not employ any Anambra man save his younger brother in any of his so called conglomerate. He has not given any Agulu or Igbo man or woman scholarship to pursue his academics. He has neither established any person in business. You will be surprised to learn that the governor's so called conglomerate of companies in Lagos has less than 20 persons in their payroll. He has no Foundation set up to promote any object for humanity. So if Anambra burns, or retrogresses, he has nothing to lose. If we believe the governor's propaganda that he was worth over N40billion, then on the basis of his failure to show what he has done four humanity and Anambra, out people should see him as incapable of doing good for our society."
These views of Peter Obi have trickled into the general masses in Anambra and may have started to show its effects on the Governor following a recent protest by civil servants in the State capital Awka.
A principal officer within the Peter Obi cabinet circle and an APGA chieftain opined from London that "There is word on the street that with the recent public demonstrations against Governor Peter Obi plans – by Water Corporation staff, the Judiciary and more; Obi is now negotiating to opt for an Ambassadorial role or the Senate if possible in 2011. How can this be? Has he lost the bottle as the English would say? This may be the end of APGA as we know it."
Just yesterday [February 1st 2010] Peter Obi's campaign train arrived Nnewi [the home of Dim Ojukwu] for a campaign stop at a pre-scheduled event in the St. Andrew's Church at Nkwo near the roundabout. Puzzling to the campaigners, no one person showed up at the playgrounds of St. Andrews. Situation reports indicated that Peter Obi had to query his campaign handlers as to the planning of such event. The governor for a brief moment thought that there must have been a mix up in the date or the venue. But further enquiries showed that - that not the case. Governor Peter Obi's association with the Biafran Warlord turned politician [Dim Ojukwu] has proven to not add the sought after vigor that Peter Obi was banking on.
|
Article source