Four UK politicians face charges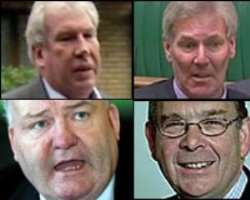 Elliott Morley, David Chaytor, Jim Devine and Lord Hanningfield face charges

Three Labour MPs and one Tory peer will face criminal charges over their expenses, Director of Public Prosecutions Keir Starmer has said.
MPs Elliot Morley, Jim Devine, David Chaytor and Lord Hanningfield will be charged under the Theft Act.
In a joint statement the MPs said they denied any charges and would "defend our position robustly".
Revelations about MPs expenses emerged in May last year with the police going on to investigate a handful of cases.
Labour peer Lord Clarke will not be charged but a sixth case remains under investigation, said Keir Starmer.
Parliamentary privilege
In an announcement outside the headquarters of the Crown Prosecution Service, Mr Starmer said: "In four cases, we have concluded that there is sufficient evidence to bring criminal charges and that it is in the public interest to charge the individuals concerned.
"Accordingly, summonses in these cases have been obtained from the City of Westminster Magistrates' Court and will now be served on the individuals in question."
Mr Starmer also said that the lawyers acting for those involved had raised the issue of Parliamentary privilege - which grants MPs and peers special rights and has evolved over hundreds of years.
He added: "We have considered that question and concluded that the applicability and extent of any Parliamentary privilege claimed should be tested in court."
Former minister Elliot Morley, MP for Scunthorpe, will be face two charges in relation to a total of £30,000 of mortgage interest claims on a property in Winterton, Lincolnshire between 2004 and 2007.
Mortgage claims
The charges allege he made claims "in excess of that to which he was entitled" and - for part of the period when "there was no longer a mortgage on that property".
David Chaytor, MP for Bury North, is accused of "dishonestly claiming" £1,950 for IT services and further sums of £12, 925 and £5,425 relating to rent on properties in London and Lancashire.
Livingston MP Jim Devine is accused of "dishonestly claiming" money for cleaning services and for stationery using false invoices.
Paul White - the Conservative peer Lord Hanningfield - is accused of "dishonestly" submitting claims "for expenses to which he knew he was not entitled" - including overnight stays in London.
In their statement, the three MPs said they were "clearly extremely disappointed" that charges were being brought.
"We totally refute any charges that we have committed an offence and we will defend our position robustly," the statement said.
"We are confident of our position and have been advised by eminent QCs."
They added that the issue should have been resolved by the Parliamentary Commissioner for standards and said while the expenses system had been "utterly discredited" they believed there had been "a complete inconsistency of approach to different individual cases".
The solicitors acting for Lord Clarke said he was "hugely relieved that the nine month investigation into his claims under the House of Lords' Allowances Scheme has ended at last, and that he has been cleared of having committed any criminal offence".