House Passes Bill On Small Arms Commission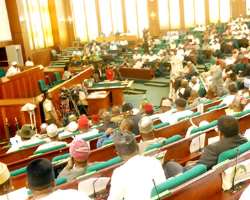 ABUJA, March 07, (THEWILL) – The House of Representatives,Thursday, passed for second reading a bill for the establishment of a National Commission Against the Proliferation of Small Arms and Light Weapons in the country.
The commission, when set up, would coordinate and implement activities to combat the problem of the proliferation of small arms and light weapons in Nigeria in line with the Economic Community of West African (ECOWAS) convention on small arms and light weapons.
Leading debate, the sponsor of the bill, Hon. Nnenna Elendu-Ukeje (PDP, Abia), said the intention of the proposed law is to address the security challenges affecting the country at the moment.
She said Nigeria is the only ECOWAS member country without the commission, even though it is a signatory to the ECOWAS convention on small arms and light weapons, which recommended its establishment in order to track down the spread of illegal weapons among its citizens.
Elendu-Ukeje disclosed that research has shown that out of the 857 million small arms and weapons in the world, 500 million are illegal with 100 million found in sub Saharan Africa adding that 7.5 percent are in Nigeria.
The lawmaker argued that the problem of militancy in the Niger Delta, Boko Haram in the north and sundry violence across the country was due to the uncontrolled number of weapons in private hands.
She noted that Nigeria being the most populous country in West Africa should have been the first to domesticate the ECOWAS convention on the control of small and light weapons.
Supporting the bill, deputy House Leader, Hon. Leo Ogor (PDP, Delta), submitted that since Nigeria is signatory to the ECOWAS convention, the bill be allowed to go through public hearing so that areas that could be domesticated be taken.
Opposing the motion, Hon. Robinson Uwak (PDP, Akwa Ibom) argued that it was contrary to the House Legislative Agenda, which advocates cut in government expenditure, therefore establishing a commission to control small arms was tantamount to proliferation of government agencies.
He argued that the military and other security agencies have been doing well in combating the proliferation of arms and light weapons in the country and wondered why a different commission should be created to take over their responsibilities.
But when the issue was put to question by the deputy speaker, Hon. Emeka Ihedioha who presided over the session, it was an overwhelming approval of the bill.
It was therefore referred to the House committee on national security for further legislative actions.