Grant Amnesty To Boko Haram, Sultan Urges Jonathan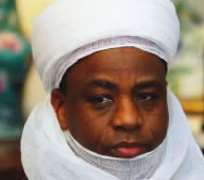 SAN FRANCISCO, March 05, (THEWILL) – President Goodluck Jonathan has been urged to grant amnesty to the members of the Boko Haram sect as a way of stopping the rage of the fundamentalist group against the Federal Government.
The Sultan of Sokoto, Alhaji Mohammad Saad Abubakar, who is also the President-General, Nigerian Supreme Council for Islamic Affairs, made the call, Tuesday, while speaking at the central council meeting of Jamatrul Nasril Islam (JNI) in Kaduna.
Expressing grave concerns over the increasing rate of violence and insecurity in the country, the Sultan, who chaired the central council meeting, maintained that extending amnesty to the Boko Haram members will surely pave way for dialogue between the group and the Federal Government.
He also blamed the security challenges in the country on the injustice meted against the masses by political leaders which, according to him, resulted in the taking up of arms by various groups.
He noted that the amnesty will enable the sect members lay down their arms rather than the massive deployment of the Joint Task Force (JTF) troops to the northern part of the country.
Referring to the bold step taken by late President Umaru Yar'Adua, who granted amnesty to the Niger Delta militants, Sultan Abubakar said "the type of amnesty that ended militants' unrest in the Niger Delta will be suitable for the North."
According to the Sultan, "Initiating a restoration and rehabilitation programme that would integrate the terrorists into the larger society will pave way for dialogue rather than engaging them in an endless war."
It would be recalled that the Northern Elders Forum had made a similar call for amnesty to be granted the Boko Haram members during its meeting in Kano last year.
Over 3,000 lives have been lost to the Boko Haram insurgency since the group started its war against the Federal Government.