OUR ERROR: Caverton, Not Arik , Responsible For Delays At Ibadan Airport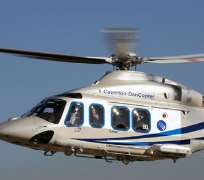 SAN FRANCISCO, March 05, (THEWILL) – Contrary to our earlier report that an Arik aircraft with burst tyres was responsible for the operational delays at the Ibadan International Airport over the weekend, further checks have shown that the offending aircraft was indeed a chopper operated by Caverton Helicopters.
An airport source who spoke on condition of anonymity told THEWILL that the chopper, which occupied a strategic portion of the tarmac, made it impossible for other aircrafts to land, thus forcing authorities to shut down the airport over the weekend.
The management of Caverton has however replaced the bad tyres and the chopper is no longer disrupting aviation traffic at the airport.
We regret the embarrassment our earlier report may have caused the management of Arik.