OKWUTE FLAG OFF ALL THE ROADS IN OKA CAPITAL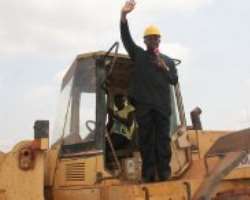 GOV OBI FLAGGING OFF ALL THE ROADS IN OKA FEB 2013
It was celebration galore in Awka, Okpuno and Amawbia communities yesterday as Governor Obi flagged off four major roads in the communities.
During the flag-off of Central-Bank Okpuno and Kenneth Dike Roads all in Awka, the traditional ruler of the town, Igwe Dr. Gibson Nwosu described what is happening in Anambra State in terms of road construction and the provision of other infrastructure as revolution, which the state was witnessing for the first time under Governor Peter Obi. He assured him of the support and cooperation of Awka people for the development of the town.
Speaking in the same vein, a community leader in Okpuno, Prince James Obidinma said that with the many roads Governor Obi was constructing in Okpuno town, that they now have a sense of belonging. He described what is happening in their town as the repair of many injustices perpetrated against the town until Obi came to wipe their tears.
At the flag-off of Amawbia by-pass, Chief Joseph Ofodile said that Anambra had never had it so good. He said that the consensus among the people of the State was that since it was not possible for Obi to go for a third term due to constitutional constraints, that the least he could do was to anoint a successor that would be like him otherwise, he said, all these politicians prancing all over the place and buying sachet water for Amansea people would come and destroy all he had built.
Speaking during the flag-off, the Commissioner for Works, Arc Callistus Ilozumba assured the people of the communities of quality and durable work. He said that Anambra was a peculiar State, where politicians paid jobless people to ascribe projects the Governor was doing to other people, simply because he did not make noise about them. "Look at this Central Bank road about to be flagged off, they have paid their people to say that it is being done by the Central Bank. In the past we have even witnessed those that inspected the projects the Governor was doing and claimed some of theirs", he said.
Speaking during the ceremonies, Gov. Obi said that his commitment to the people of Anambra State was total. He said we would continue to do only things that would benefit the State. He revealed that with the understanding with the Federal Government, that the State would soon start the reconstruction of the Dual carriage road from Amansea into the heart of the capital.
He cautioned Anambra people against being deceived by politicians and advised them to vote in as the next Governor, a person who is not above 50 years and who would still have the energy and stamina to run around for the good of the State. "I always pray to God to give the State somebody better than I am", he concluded.