Boko Haram Kills 10 Persons In Borno, Yobe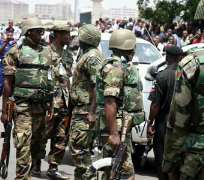 SAN FRANCISCO, February 26, (THEWILL) – Suspected members of the Boko Haram sect have killed 10 persons in Borno and Yobe States in separate attacks.
Security sources in Yobe State said six local vigilante personnel were killed in Nangere, Monday evening, by men suspected to be members of Boko Haram.
And in Maiduguri, the Borno State capital, impeccable security source disclosed that in a confrontation with the Joint Task Force (JTF) in Borno State , Operation Restore Order, four persons were shot dead and they included a Boko Haram leader from Kano and three of his subjects brought to wreak havoc in Maiduguri.
JTF spokesman in the state, Lieutenant Eli Lazarus, confirmed the death of the six vigilantes in Yobe, disclosing that a gang of gunmen ambushed and attacked the vigilante group during their briefing session before setting out for the task of the day.
He said the vigilante members were caught unaware as the gunmen vanished into the air unhurt.
His confIrmation came as the JTF spokesman in Borno State, Lt. Col Sagir Musa, confirmed that a senior leader of Boko Haram was killed alongside three other members of the sect while trying to plot a major attack in Maiduguri.
Musa, who disclosed this in a statement, said the incident took place at Kasuwan Kaji area of Maiduguri metropolis between 2.05pm to 5.50pm.
According to the JTF statement, "The operation was intended to arrest a top Boko Haram terrorist commander and his group believed to have come into Maiduguri from Kano to cause havoc.
"It is confirmed that he and his group are responsible for the recent series of IED/weapons attacks on JTF patrols vehicles and locations.
"The commander and his three lieutenants lost their lives during an exchange of fire. Three other terrorists were arrested and are in JTF custody undergoing interrogation. No casualty was recorded on the side of JTF troops and no civilian was wounded."
The JTF spokesman listed items recovered from the hoodlums to include three AK 47 rifles, two dane guns, three magazines, 36 rounds of 7.62mm special ammunition, two bows, 18 arrows and assorted IED materials.