Borno: Many Killed As Boko Haram, JTF Clash Enters Third Day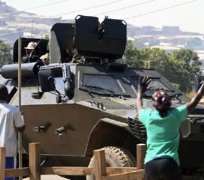 SAN FRANCISCO, February 22, (THEWILL) - Many people were reportedly killed in Maiduguri, the Borno State capital, with several others sustaining varying degrees of injuries as the deadly Boko Haram confrontation with the military Joint Task Force (JTF) entered its third day on Friday.
The town had witnessed two suicide attacks targeted at the JTF on Wednesday and Thursday which left about 10 persons dead and several others injured.
The town also came under heavy bombardment with sounds of bomb blasts and sporadic gunshots on Thursday night as soldiers and the sect members were involved in another deadly battle that lasted for over five hours.
Though the spokesman of JTF, Sagir Musa, could not be reached for official confirmation on the number of casualties, it was gathered that scores were left dead on both battle lines.
The battle erupted between the combatants at about 10pm on Thursday when suspected members of the sect attempted to take over a police station but were repelled by the military and police.
A security said the militants numbering about 20 at about an hour into the daily curfew at 10pm attacked the Taiwo Ibrahim Police Station with all sorts of ammunitions.
The attackers were said to have been dressed in military camouflage as they engaged the security in exchange of gunfire for several minutes.
They however had no option than to flee because of the superior fire power of the JTF.
The battle it was learnt shifted from the police station to the Ummarari and Jajeri areas were the militant fled.The battle which raged for another four hours saw many houses set ablaze and recorded scores of deaths battle which raged from between 10pm and 3am made many residents of the town sleepless as the sound of bombs and gunfire rent the air.
.As many were settling down to Friday's business, the exchange of gunfire resumed at about 9am in the same vicinity making many to desert the streets, fleeing home for solace.
Many businesses were closed including the banks on Baga road where many customers who were bold enough to come out were turned back by stern looking security men.
Some residents of Jerusalem, who spoke to journalists said they have not had it rough as that in a year as they were compelled to keep vigil.