JTF May Bust Kidnappers Of French Nationals Soon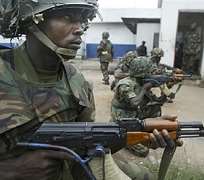 SAN FRANCISCO, February 21, (THEWILL) - Following the presidential directive to the nation's security agencies to go after the kidnappers who abducted seven French nationals in Cameroon, indications emerged, Thursday, that the Nigerian security may soon bust the kidnappers and free their victims.
A top security source disclosed that the kidnappers and their victims may be holed up around Dikwa and Ngala, the Nigerian border town with Cameroon.
Speaking with journalists on phone, a top security operative in Borno State who craved anonymity, said the kidnappers are somewhere around Dikwa and Ngala border towns and that the Joint military Task Force (JTF) men were already on their trail.
"I can confirm based on intelligence that the kidnappers are currently in some bush enclaves between Dikwa and Gamboru-Ngala border village.
"We have given the JTF squad all the necessary intelligence, and they are working seriously towards rescuing the French nationals without any incidence of losing anyone of them," he said.
The Acting Comptroller General of Nigeria Immigration Service (NIS), Rilwan Bala Musa , had revealed , Wednesday, that the nation's border was on red alert for the kidnapped French nationals and their captors who are believed to be heading for Nigeria.