NDUKA OTIONO: Odyssey Of Nigerian Scholar-Writer In Canada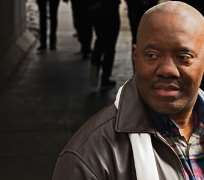 SAN FRANCISCO, February 18, (THEWILL) - Nduka Otiono has found favour in the West. Less than a decade after he left Nigeria for academic pursuits, the fecundity of his literary scholarship has grown like duckweed. "I am comfortable working in that environment because of the infrastructure and the kind of support structure available for research, and writers and scholars; but home is exactly where the heart is," his deep, mellifluous voice booms in a chat in a hotel suite in mainland Lagos, on the eve of his departure from Nigeria after a brief visit.
He is on this trip from Accra, Ghana, as part of an ongoing postdoctoral cultural research. But he can't but look in where the muse is. "Nigeria is like a cultural laboratory for me," a smile flits across his face. "Where my material is, is where I am very much at home," he adds with a feel-good swagger.
However, he has taken his studies beyond Nigeria. It is a year-long Banting Postdoctoral Fellowship from the Government of Canada, and his research is focused on expanding, on a comparative basis, studies of contemporary urban narratives that began specifically in Lagos and to other African cities, like Accra, Cairo, Nairobi and Johannesburg.
These are basically what people call 'rumours', but Otiono is looking at them more in the context of post-colonial stories. He is also interested in the political relevance of these stories, which people often tell about their political leaders, often in negative light. "I call them urban narratives," he tells me, "in the sense that they exist more in the cities."
Otiono's Banting Postdoctoral Fellow at Institute of Africa Studies of Carleton University, Canada, is the most prized in Canada. Gary Goodyear, Minister of State for Science and Technology, Canada, while announcing the new recipients of the Banting Postdoctoral Fellowships, including Otiono, said, among others, "The Banting Postdoctoral Fellowships are Canada's most prestigious awards for postdoctoral researchers….These internationally competitive awards allow our country to retain and attract some of the best and brightest researchers in the world, thereby building Canada's economic and competitive edge…. The Banting fellows are among the world's most creative, inspired, and talented researchers."
Otiono was also a nominee for the Governor General's Gold Medal, 2011, and has garnered other awards and distinctions, including James Patrick Folinsbee Memorial Scholarship in Creative Writing, 2010; J. Gordin Kaplan Graduate Student Award, 2009; Izaak Walton Killam Memorial Scholarship, 2009; William Rea Scholarship, Spring 2009; Sarah Nettie Christie Research Award, 2009; Andrew Stewart Memorial Graduate Prize for Research, University of Alberta, Edmonton, Canada (2008).
Others include Professional Development Grant Research award; University nominee, Trudeau Scholarship, University of Alberta, Edmonton, Canada, 2007; The William Joiner Centre for War and Social Consequences, University of Massachusetts, Boston, fellowship 2007; and FS Chia Doctoral Scholarship, August 2006.
Though he started out in Canada for his doctoral studies before having a stint in the US, he has returned to Canada. So, you wonder how his cultural straddling has affected his personality. "I have discovered that, as you move, sometimes very frequently, across space of different countries, you begin to ask yourself how are you occupied in those inter-spaces? What is happening as you cross from Nigeria to other places?"
Also, he has benefited from cultural exchanges. "As you move from Canada to the US, there are some different kinds of sub-cultural differences, which you can note. Whereas you find a Canadian very polite," he explains, "not many people think the Americans are like that. The US and Canada are in North America, but there are some subtle differences. What I have tried to do is to find ways in which there are connections for me in terms of scholarly, intellectual and literary interests. It is not so easy to manage those tensions, because they exist when living in different subcultures; orientations are different."
He has lived in Edmonton in Canada, seen as a cultural habitué; Rhode Island in the New England area in the US, noted for its multiculturalism, with the Irish and the Italians maintaining a rich cultural presence, which he might not found in Edmonton. More important, it has exposed him to new kinds of academic orientations.
For instance, the New England area, where he lived, has some of the most distinguished Ivy League institutions in the world within a short space, including Harvard, Dartmouth and Brown University. Otiono admits being in such an environment comes with challenges, too. "I was privileged to work with Achebe for the Achebe Colloquium, and that itself brought me different kinds of experiences. There, he moved from the Department of English and Film Studies to Africana Studies. "This naming also comes some kinds of nuanced differences," he says; "that migration confronts you with challenges to negotiate."
Doesn't he think his cultural straddling has made him more diasporic in orientation? Otiono offers felicitously, "I think you are right, but the point I also want to make is that –fortunately, you are a journalist, and –there is certain sense in which our job as journalists equips us with the kind of cultural straddling you are referring to, because what you do as a journalist to process very diverse views and experiences. As a journalist, at all times, you are dealing with ever changing personality; you are like a chameleon, having to adjust to different personalities."
Nduka in Carleton:
Young Nigerian scholars like Otiono, Pius Adesamni, to mention a few, have been given to the pursuit of intellection. Compared to his days as a journalist in Nigeria, what does he find more challenging? His response seems engraved in his heart, for it comes in a millisecond, "I feel a sense of disappointment in some of the journalistic practices of some of our colleagues as against the ideals some of us set out to pursue. The Nigerian environment does not give the kind of space the journalists need to practice the best of journalism. So, the challenge is to try and find alternative spaces to actualize yourself."
For instance, during his tenure as the general secretary of the Association of Nigerian Authors, he created the Literary Journalist of the Year award, because, "Here was a situation where every other desk in Nigerian journalism, had more prestigious awards; yet, here you were [as a literary journalist] doing deep intellectual work involving a whole lot of reading and writing, and not just stringing sources together; more so, it offers the least material rewards compared to, say, business or political reporters or editors. And I thought as, people who are central to cultural and intellectual developments in Nigeria, there had to be a way of creating a form of distinction.
"People who are literary journalists are writers, but who have to find alternative means of survival through journalism while still writing. If you use yourself as an example, being a journalist has not in anyway stopped you from being a writer; you see your role as conterminous, and you feel diminished if you are unable to practice as a writer.
"For me, I realized how increasingly difficult it was to function as a journalist, and I was finding it difficult to write and publish books as I like. Also, I realized the need for more personal intellectual development. So, rather than operate from the newsroom, one can now operate from the ivory tower, so to speak. So, this is the context in which I see the pursuit of intellection."
Today, he is making hey as a scholar, but he cannot forget where he started back home. "I have found great fulfillment from being a journalist, writer and cultural activist in Nigeria," he says. "If I wasn't a journalist, I wouldn't have been able to do the kind of research I have done, because my research draws substantially from my experience as a journalist," he admits.
"What arts journalism does is that it puts you at a certain advantage to take note of certain cultural production that the lay people would ordinarily take for granted. As cultural activist, it made me work with other human rights bodies and, with ANA, it brought me close to every day realities. The award I got from the Canadian government at Carleton University was in appreciation of this kind of otherwise marginal narratives, which I intend to bring to more international significance," he declares.
So, what does he miss about Nigeria? For a while, Otiono doesn't fizz with fervour. "I miss the ordinariness of life," he responds dryly. "I miss Iya Ijebu's joint in Apapa, Lagos, where I could stroll in anytime and meet a plate of pounded yam and a parliament in session –of ordinary people, many of them invoking theories of politics," he laughs.
"I miss the smell and warmth of the city, especially at this time of the year," he continues. "I also miss the sense of location, that place I am very comfortable with many of my friends. I am isolated in the diapora. That is not to say there are no connections with compatriots living in other cities in the West, but there is a high sense of individualism in western societies than ours."
Being immersed in scholarship comes with a certain prize: his creative side is beginning to suffer. "I feel guilty sometimes that I have stayed this long without coming out with a new creative work," he says. Perhaps when he secures a writing fellowship, he would concentrate on his next collection of poems, April Child; a collection of short stories and a novel at a formative stage. Otiono's feisty determination has always stood him out.
Culled from The Sun Newspaper Nigeria.