Jay Jay Okocha Mobilises Youths For Soludo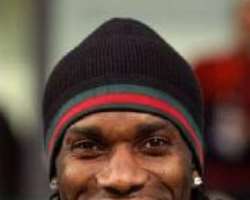 Nigeria's celebrated former football star, Jay Jay Okocha, is set to mobilise Nigerian youth for the gubernatorial candidate of the Peoples Democratic Party (PDP) in the February 6, 2010, election in Anambra State, Professor Chukwuma Soludo, because of Soludo's pledge to create between 300 000 and 500 000 jobs if elected governor.
Okocha made the pledge last night at a party in Ikoyi, Lagos , organised by Anambra indigenes and their friends in honour of the erstwhile Central Bank Governor and Chief Economic Adviser to the President whose participation in the race has generated nationwide excitement.
The erstwhile national football captain said even though he was not involved in partisan politics, he could not afford to be indifferent to a candidate "who has drawn up a comprehensive programme of engaging so many youths productively".
He noted that the absence of employment opportunities has "given rise to vices like cultism, prostitution, armed robbery, and kidnapping for ransom which involve a large number of the nation's leaders of tomorrow".
Okocha humorously added: "If I had not discovered my talent in football early enough, I probably would have been one of the kidnapping kingpins today".
He said even though his parents are from Delta and he grew up in Enugu , two states which border Anambra, he regards himself as an indigene of Anambra State .
"In any case", argued the football hero, "Professor Soludo is a national icon, and all well-meaning Nigerians should support his vision to make Anambra a model state in development, which will make the nation develop faster and better."
The reception party at Colonades Hotel was well attended by enterpreneurs, technocrats and professionals from Anambra State , including Chief C. C. Ifeanyi, immediate past president of the Association of Anambra Town Unions in Lagos ; Engineer Boniface Madubunyi of Mabon Petroleum Group; and Donatus Okonkwo, one of the gubernatorial candidates in the forthcoming election widely expected down for Soludo this weekend.
They expressed satisfaction that Prof Soludo is leading in different polls on the election holding next weekend.
|
Article source