Police dump dead bodies in Ezu River - MASSOB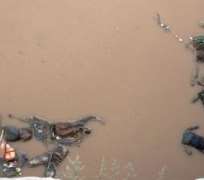 The Movement for the Actualization of the Sovereign State of Biafra (MASSOB) released a press statement on Febuary 6, 2013 claiming that some of bodies found floating in the Ezu River at Amansea community, Awka North LGA of Anambra State on Saturday 19th of January, were those of their members who were in police custody.
According to MASSOB Director of Information, Comrade Uchenna Madu, their members killed and dumped in the river were; Basil Ogbu, Michael Ogwa, Sunday Omogo, Philip Nwankpa, Eze Ndubisi, Ebuka Eze, Obinna Ofor, Joseph Udoh, and Uchechukwu Ejiofor.
"MASSOB, with a deep sense of grief and sorrow, wishes to inform Mr. Ban Ki Moon (UN Secretary General), President Goodluck Jonathan, US President Barack Obama, United Nations Human Rights Commission (UNHRC), and Amnesty International about the gruesome murder of MASSOB members by the Special Anti-Robbery Squared (SARS) of Nigeria Police Force, Awkuzu, Anambra State."
"We got information from an insider at SARS headquarters, Awkuzu, that armless MASSOB members detained at SARS were secretly killed alongside other robbery suspects."
Madu said the men were arrested at MASSOB's security office in Onitsha on the 9th of November 2012, by a combined team of Nigerian security agents - Army, Police and SSS - and were later handed over to SARS' headquarters in Awkuzu, Anambra State, where they were detained. He alleged that the men were never released, were never charged to court and were later secretly executed alongside other criminals and dumped in the river.
Reacting to the claims, the Anambra State police command said through its spokesman that the outcome of the autopsy on the corpses would tell whether the claims by MASSOB were true or false..