Stay Away From Partisan Politics, Sultan Advises Monarchs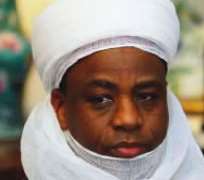 SAN FRANCISCO, February 14, (THEWILL) - The Sultan of Sokoto, Alhaji Muhammad Sa'ad Abubakar, has advised traditional rulers in the country not to enmesh themselves in the murky waters of politics in order to preserve their dignity.
The Sultan gave the advise, Thursday, in Oyo while paying a solidarity and sympathy to the Alaafin of Oyo, Oba Lamidi Adeyemi, whose palace was gutted by fire recently.
The Sultan however said that the traditional rulers can support their friends in politics but should not do it brazenly.
According to the Alaafin, "Once you put your two eyes and mind in partisan politics, we lose respect. Government believes in us and in the traditional institution and that is the reason we have to be apolitical."
He said politicians would come and go but the traditional institutions remain the same.
He stressed the need for bilateral visits among traditional rulers in order to strengthen the existing brotherliness among them, saying "It is left for us to strengthen the ties existing between us by being good leaders."
Abubakar reminded public office holders to be just and fair in the distribution of the dividends of democracy, saying "For those in leadership position, there must be justice. It is the bedrock for any development. Electoral victory should not be the end of politicians contact to the people."
The Sultan urged the Alaafin to regard the January 8, 2013 fire disaster that ravaged parts of his palace as the will of Allah and a divine blessing in disguise.
In his response, the Alaafin stressed the need for monarchs to administer their subjects with justice and fairness.