The reason behind DIPO DINA's assassination?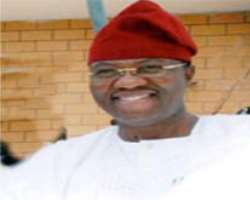 In the first fourteen editions of these series which were published in various national newspapers, DDM, led by Otunba Dipo Dina (D.D. DIRECT), commended laudable strides, where such existed, and unearthed some among the myriad of deficiencies
of the Otunba Gbenga Daniel administration. In this series, we shall dwell on "THE PROPAGANDA GOVERNMENT - ANATOMY OF THE PRODIGAL 2".
2. ANATOMY OF THE PRODIGAL 2
In the Wednesday, 15th and Thursday, 16th November, 2006 publication of the first part of 'Anatomy of the Prodigal', published in the Punch newspaper of the respective dates, we brought to the attention of our people how the Governor of Ogun state, Otunba Gbenga Daniel, emptied its treasury to the tune of N817m. This plundering was done using various means including outright dipping of his hands into the treasury of the state and erection of unnecessary billboards and media propaganda among others.
A. GOVERNOR AND WIFE'S FOREIGN TRIPS – N450, 000,000
The till of the state was also depleted in other areas. We shall presently show this with factual evidence. Available official records of the government shows that Governor Daniel made no fewer than 49 trips abroad since assumption of office. In like manner, his wife, Yeye Olufunke Daniel made no less than 31 trips abroad during the same period. For each of these trips, Ogun state government was made to pick up the bill. For the total number of times Otunba Daniel and his wife travelled abroad, both husband and wife expended a total sum of N450,756,676.50 (Four hundred and fifty million seven hundred and fifty six thousand six hundred and seventy six naira and fifty kobo). While less than ten percent of the trips made by the governor was necessary, there is simply no justification for the trips made by the wife and for which the state government was forced to expend so much. The husband is the governor of the state and not the wife. Besides, the state is yet to reap bountiful direct foreign investment as a result of the many foreign trips of the governor.
A few examples of the expenditure on trips by the governor are as follows: an Oceanic Bank cheque number 0000216 of the sum of N3,237,437.50 was issued for a trip to Germany in May 2005. In the same month of May, the governor claimed the sum of N4,896,092 through cheque number 00040595 of First City Monument Bank for a trip to United Arab Emirates. The same trip cost additional sum of N2,905,730 vide cheque number 00040594 of First City Monument Bank. A trip to South Africa in January 2006 cost the state N4,239,692 (Wema Bank cheque number 41640557). A certain Versatile Travel and Tour Limited billed Ogun state government the sum of N7,406,517 for unspecified trips of the governor in May, July and November 2004 via cheques including a Guaranty Trust Bank cheque of N2,966,518 number 0000972. The globe-trotting governor also expended, among others, the sum of N6,260,355 in June 2004 for a trip to the United States of America (Wema Bank cheque number 025737889).
His wife, Yeye Olufunke Daniel, on her part, expended Ogun state money of the sum of N4,514,658 on a trip to United Kingdom in April 2006 alone. Various Intercontinental Bank cheques were issued with cheque numbers 00005997, 00005998, 00005999 and 00006000 for various trips around that period. In April and May 2005, Yeye Olufunke Daniel assaulted the till of Ogun state to the tune of N9,969,059 for a trip to the United Kingdom and China through various cheques with numbers including, but not limited to, 324244611, 32424462, 32424459 and 32424460 all of Wema Bank. See the following table for a few more expenditure by husband and wife on trips.
GOVERNOR'S TRIPS
DATE DESTINATION BANK CHEQUE NO. AMOUNT
18.06.04 USA WEMA BANK 025737889 6,260,355
27.08.04 UK GUARANTY TRUST BANK 4544553 11,275,405
20.05.05 UNITED ARAB EMIRATE FIRST CITY MONUMENT BANK 00040595 4,896,092
02.12.05 SOUTH AFRICA WEMA BANK 04164044 5,433,000
06.01.06 UK GUARANTY TRUST BANK 00003993 3,219,000
13.01.06 SOUTH AFRICA WEMA BANK 41640557 4,239,629
28.04.06 SOUTH AFRICA FIRST CITY MONUMENT BANK 00046916 1,006,942
14.07.06 CHINA SKYE BANK 0003129 561,365
21.07.06 UK GUARANTY TRUST BANK 00004794 3,276,450
30.09.06 UK WEMA BANK 41640825 5,905,291
GOVERNOR'S WIFE TRIPS
DATE DESTINATION BANK CHEQUE NO. AMOUNT
15.04.05 CHINA WEMA BANK 32424459 2,784,922
09.12.05 UK (ESTACODE) INTERCONTINENTAL 00005074 1,653,160
UK (AIR TICKET) INTERCONTINENTAL 00005075 929,564
07.04.06 UK (ESTACODE) ICB 00005997 976,800
07.04.06 UK (AIR TICKET) ICB 00005998 3,537,858
07.04.06 UK (TRIP & ESTACODE) ICB 00005999 1,653,160
07.04.06 UK (AIR TICKET) ICB 00006000 1,179,281
B. GOVERNOR'S EXPENSES – N718,010,167
Apart from these so called trips, Governor Daniel, also, during the period, claimed the sum total of N718,010,167 (Seven hundred and eighteen million ten thousand one hundred and sixty seven naira) on various claims and what he called "reimbursement of expenses" during unspecified official assignments. These exclude the normal imprest of the governor. These are also different from the donations which the governor claimed to have made totaling N518m as reported in our series 14 on Wednesday 15th November, 2006. Other huge sums of money are simply listed in official vouchers of government as "expenses of HE". 'HE' connotes 'His Excellency'. For instance in January 2006, the sum of N9,908,600 and N8,760,000 were claimed as reimbursement by Otunba Daniel. He was paid with cheque number 4909000 and 41640599 of Guaranty Trust Bank and 0005461 of Intercontinental Bank. In June 2006, he also claimed the sum of N23,570,227.50, among others, as "reimbursement of expenses" for that month alone. He was paid with cheque number 41641000 of Wema and 00004479 of Guaranty Trust Bank among others. On a single day, 7th May, 2004, Governor Daniel got another N7,671,780 with cheque number 4337711 of Guaranty Trust as "reimbursement" of strange expenses. Ogun state account with Intercontinental Bank suffered depletion to the tune of N8,207,000 on 4th August, 2006 through what Governor Daniel called "official duty tour".. Cheque number is 00000912 took care of that particular claim of the govenor. The table below shows a few of other questionable "reimbursements of the governor".
DATE PURPOSE BANK CHEQUE NO. AMOUNT
07.05.04 Reimbursement: 2nd – 15th March GUARANTY TRUST BANK 4337711 7,671,780
07.04.06 Duty Tour Allowance - Governor OCEANIC BANK 0000629 2,521,770
02.06.06 Reimbursement – H.E WEMA BANK 41641000 7,900,000
16.06.06 H.E – Imprest GUARANTY TRUST BANK 00004479 936,150
04.08.06 Duty Tour Allowance - Governor INTERCONTINENTAL 00000912 8,207,000
C. KAYLORD MOTORS N1,815,119,075
Another, probably more ingenuous act of plundering of Ogun state riches came in other areas. Government official records show that no fewer than 643 vehicles were reported to have been purchased by the government. These automobiles, according to invoices and claims made by suppliers, were reported to have been purchased for various ministries. The vehicles, many of which are unseen, are also in various types including exotic jeeps, trucks and official pleasure cars. A couple of automobile companies including Utobra Motors Nigeria Limited and Kaylord Motors benefited in these ignoble deals.
Majority of the vehicles were however claimed to have been supplied by Kaylord Motors, which also forwarded invoices for same and got paid for everyone of the vehicles. At the end of the day, total amount of money claimed and collected from Ogun state government treasury by Kaylord Motors alone adds up to N1,815,119,075 (one billion, eight hundred and fifteen million, one hundred and nineteen thousand and seventy five naira). This sum was claimed to be payment for some 474 pieces of vehicles.
This favoured automobile company is owned by Mr. Kunle Sokunbi, a self-confessed bosom friend of Governor Daniel. Sokunbo it was in August 2006 who claimed that a controversial custom-made bus (Motor Home) costing N82m was donated to Governor Daniel by his (the governor) friends including himself (Sokunbi). Sokunbi came to the rescue of his friend following DDM shocking revelation of the acquisition of the bus with tax payers' money and the attendant public indignation and brouhaha. According to him, his group of friends purchased the bus to express support for the second term bid of Otunba Daniel both morally and financially.
DDM, however, is in possession of hard fact to prove that the controversial bus was bought by the governor for his campaign, even though no Nigerian president or governor ever bought such an expensive bus for campaign. The point being raised is that the purchase of such a bus shows the insensitivity of the governor, giving the situation in the state regarding joblessness, hunger, despair, lack of potable water, health care, housing, etc.
Although Sokunbi's claim of Father Christmas in the issue of the bus remains unconvincing, foggy and floppy, the huge sum of money that went into his company account through the largely alleged fictitious automobile purchases will leave in doubt that Sokunbi alone could purchase the controversial bus as part of payback to a benefactor. Let Mr. Kunle Sokunbi give the names of other friends of the governor as claimed by him who contributed to the purchase of the bus. The Ogun state people are interested in knowing the faceless friends who possibly have been part of the milking of the resources of the state. It is also instructive that since our publication on the bus and the public disgust and negative reaction to its use after Governor Daniel did his farewell tour of Odogbolu and Ipokia Local Governments with the controversial automobile, the governor inexplicably halted its use. We, in Ogun state are asking for the whereabout of the bus because there is incontrovertible fact that it is the property of the state.
As almost the sole supplier of vehicles to Ogun state government, the people of Ogun state are interested in knowing from Mr. Sokunbi how much tax (apart from the normal levy deducted at source) he paid to the coffers of Ogun state following his claim of such a huge amount for the allegedly supplied vehicles.
Invoices of purchased vehicles flood accounts departments of governor's office monthly as if the Daniel administration is into automobile business. The Ogun Stakeholders are interested in having a schedule of all the motor vehicles purchased by this government including their current state, location and assigned users in order to verify the existence of all these vehicles.
Kaylord supplies both new and used (tokunbo) vehicles, even when there are authorized and renowned distributors of such new vehicles who would give better prices in line with good economic and business decision. Only on a few occasion did the state government purchase some vehicles from Peugeot Automobile Nigeria (PAN) and Dana Motors.
Of no fewer than 120 invoices raised by Kaylord Motors and settled from various state government accounts, here are few examples. These exclude sales made directly to some state parastatals or extra ministerial departments and local government councils.
S/N DATE BANK CHEQUE NO. AMOUNT
1. 07.07.04 GUARANTY TRUST BANK 00004496 28,840,000.00
2. 15.08.05 WEMA BANK 041671677 20,700,627.00
3. 27.01.06 WEMA BANK 41640625 44,207,391.25
4. 17.03..06 INTERCONTINENTAL BANK 00005869 39,900,000.00
5. 31.03.06 WEMA BANK 41640823 49,750,000.00
6. 07.04.06 ICB 00006095 25,380,000.00
7. 28.04..06 GUARANTY TRUST BANK 00004280 21,760,000.00
8. 05.05.06 GUARANTY TRUST BANK 00004282 27,630,000.00
9. 19.05.06 GUARANTY TRUST BANK 00004363 22,530,000.00
D. PEOPLES DEMOCRATIC PARTY (PDP) – N19,628,156
Perhaps a most disgusting display of irresponsibility is the emerging fact that Governor Daniel government also recklessly spent government money to service members of his party, the Peoples Democratic Party. A total sum of N19,628,156 was found to have been expended on party activities. This is with respect to very few official records at DDM disposal. There are certainly more. This expenditure comes under various headings such as "reimbursement of PDP expenses"; "hosting of meeting of PDP Board of Trustee"', "mobilization of party members for rally" among others. In a particular instance in May 2005, the sum of N6,300,000 was pulled out of the First City Monument Bank account of the state through cheque number 00040583 as 'logistic support for South-West Zonal Committee of PDP'.
Less than a month earlier in April, records show that another N7,175,000 was withdrawn from government Bond Bank account to service the same committee through cheque number 0001888.Similarly, a grand reception for members of PDP working committee gulped N1,000,000 in September 2003. Official cash record of that date recorded the expenditure. In July 2006, PDP National Executive Council was recorded to have spent N500,000 of Ogun state money in Guaranty Trust Bank through cheque number 00004795. Record also revealed that N960,000 was spent by the party's Board of Trustees. The governor and his wife also expended the sum of N1,250,000 on hosting of South-West PDP governors in September 2006. On 20th September, 2003, N1,000,000 was expended on reception for members of PDP working committee.
E. LAW AND ORDER – 281m
Inspite of this financial horror that the governor imposes on the state, no less than N281m has also been so far claimed to have been expended on maintenance of law and order in the state under the Daniel administration. This money, DDM can authoritatively confirm, goes through the office of the secretary to the state government in the same way the huge sum spent on security around the governor do.
Several cheques were issued under all kinds of headings including "reimbursement on maintenance of law and order"; reimbursement of expenses on law and order"; and "donation to non-governmental organizations on maintenance of law and order". A few examples: on 30th October, 2005, a cheque of N10m number 00003985 of Guaranty Trust Bank was picked by the secretary to the state government for the purpose of "maintenance of law and order". On 15th December, 2005, another cheque of N7.5m was issued with number 41640523. The cheque belongs to Wema Bank. Another Wema Bank cheque of N3.7m with number 41640540 was issued on 30th December, 2005 as "part payment on maintenance of law and order". The sum of N8m went out of state government coffers for "maintenance of law and order" on 30th December, 2005. The number of the cheque is 00003984 of Guaranty Trust Bank. N2.6m was expended for the same purpose on 31st March, 2006. Cheque bears number 41640856 of Wema. Governor Daniel was severally "reimbursed for his expenses on law and order" through various cheques including an Intercontinental Bank cheque of N8.7m bearing number 00005929 of 15th March, 2006 and another cheque bearing number number 41640801 of Wema for the sum of N9,971,000 of 3rd March, 2006.
According to financial records of the Daniel administration, various scarring sum of money were similarly claimed to have been expended on "assistance or donation to agencies and organizations for maintenance of law and order". One of such occasions, an FCMB cheque of N8m number 00046764 dated 21st January, 2005 was issued to the secretary to the state government. On another occasion, the office of the secretary to the government picked a N5m cheque of Guaranty Trust Bank on 28th June, 2006 as "donation to non-governmental organizations for maintenance of law and order". It should be noted that no specific organization or agency is named as beneficiary of the "donations" and "assistance". The table below shows a few more lurid picture of a lot of largely imaginary claims on law and order:
S/N AMOUNT PURPOSE BANK DATE
1. 10,000,000 Maintenance of law and order Government cash position 12.05.05
2. 8,000,000 Maintenance of law and order Government cash position 12.08.05
3. 9,000,000 Maintenance of law and order Government cash position 11.11.05
4. 8,000,000 Maintenance of law and order Government cash position 18.11.05
5. 10,000,000 Maintenance of law and order Government cash position 30.12.05
6. Reimbursement of expenses on law and order GTB 00004083 10.03.06
7. 8,000,000 Financial assistance on maintenance of law and order GTB (00004083) 10.03.06
8. 8,000,000 Financial assistance on maintenance of law and order Intercontinental (00005928) 17.03.06
9. 8,658,000 Financial assistance on maintenance of law and order Intercontinental (00005929) 17.03.06
10. 2,600,000 Donation on maintenance of law and order Wema (41640856) 31.03.06
F. CULTISM AND THUGGERY – N23m
Available cash position of government similarly revealed that a huge sum of N23m has found its way out of government pocket through often suspicious effort at "curbing violence on Ogun state campuses of tertiary institutions. Government of Otunba Daniel claims that it spends an average of N1m on "anti-violence committee" on campuses per month. Cash position of government on 21st May, 2004 recorded that N1.5m was spent for this purpose. On 26th November, 2004, the document revealed that N300,000 was paid to the anti-violence committee for the month of August 2004. The sum of N1m was recorded in the document on 5th March, 2004 as having been spent on "eradication of cultism". On 23rd December, 2005, the sum of N7.4m was recorded to have been dolled out to "youth leaders in Ogun state".
It, however, remains a fact that incidences of thuggery, vandalism, cultism and other forms of violence have been more rampant during the Daniel administration more than any other government in Ogun state. Ogun state people are witnesses to unfortunate incidences where all forms of weapons of violence especially guns have found their ways into the hands of vulnerable youths. There has therefore been several occasions that a whole town would fall under the siege of gun-trotting youths loyal to the Daniel government. What the huge expenditure on eradication of violence in Ogun state therefore suggests is that the monies are expended to service thugs, vandals, arsonists and murderers on the payroll of the Daniel government.

G. SUMMARY OF FRIVOLOUS EXPENDITURE
As reported also in our series 14, and now in series 15, a lot of money which otherwise could have been better judiciously spent has gone into servicing personal cravings. The summary of the ones we have highlighted so far is as follows:
S/N BENEFICIARY
AMOUNT
N
1. Artistes 100m
2. Clocks 87m
3. Billboards 150m
4. Media Campaign 360m
5. "Newsletter" 70m
6. Choice Band 50m
7. Governor and Wife's Foreign Trips 450m
8. Governor's Expenses 718m
9. Kaylord Motors 1.8b
10. Peoples Democratic Party (PDP) 18.6m
11. Law and Order 281m
12. Cultism/Thuggery 23m
T O T A L 4,107,600,000
3. MATTERS ARISING
Suspended Workers
In character with the Otunba Daniel administration, it went into less than noble panicky reaction last week when it suspended 12 officers of the Accountant-General's office. This came in reaction to the series 14 of the DDM which exposed a mountain of calamitous graft of the Daniel government. The officers are already being tried for an alleged leak of government financial records to us. As we sincerely empathize with the affected workers, we make bold to say they are innocent of the offence. They are only being persecuted by a sadistic, intolerant and sinking regime. The witch-hunting must stop. These people and others suffering all forms of oppression under this administration will have their cases redressed when, by the Grace of Almighty, Otunba Dipo Dina assumed political leadership of the state in May 2007. Our heart goes out to them. They are heroes of the struggle, cast in the mould of Nelson Mandela, Amical Cabra and Corazon Acquino.

OTUNBA GBENGA DANIEL ADMINISTRATION IN OGUN STATE: AN ASSESSMENT
(SERIES 16)
1. INTRODUCTION
In the first fifteen editions of these series which were published in various national newspapers, DDM, led by Otunba Dipo Dina (D.D. DIRECT), commended laudable strides, where such existed, and unearthed some among the myriad of deficiencies of the Otunba Gbenga Daniel administration. In this series, we shall dwell on "THE PROPAGANDA GOVERNMENT - ANATOMY OF THE PRODIGAL 3".
2. ANATOMY OF THE PRODIGAL 3
In Parts 1 and 2 of Anatomy of the Prodigal, published in the Punch Newspaper of 15th, 16th and 22nd November, 2006, we delved into gross mismanagement of the resources of Ogun state by the Daniel administration.. Specifically, we quoted various trips of the governor and his wife abroad at the expense of Ogun state people, his flimsy claim of large sums of money as donations and financial assistance from government coffers, erection of campaign billboards and media propaganda for which the state was financially pummeled. The story of Otunba Daniel's atrocity against the state treasury did not end there. We decided to let the good people and stakeholders of Ogun state and indeed all Nigerians know the true picture of the finances of the state because the governor, in a recent newspaper interview, claimed that the opposition in the state have not been able to prove that a single kobo is missing or imprudently spent since he assumed office. We took up the gauntlet knowing that this was a challenge to us if we were serious about debunking Governor Daniel's claim. What we are doing therefore, is to bring various facts to the people's parliament in order for the people to make an informed opinion about the present state government. Happy reading.
A. FRIVOLOUS SPENDING – N487,968,745
In various annoying ways, Otunba Daniel caused tax payers of Ogun state to pick up the bills of his pastime. In some cases, the bills are either grossly exaggerated or outrightly fictitious and personal. Others are simply irrelevant to the affairs of the people of Ogun state. When the governor turned 50 years of age in April 2006, the state was made to cough out the sum of N15,202,560 to pay for the celebration. This is with respect to the few officially recorded expenses DDM could lay hands on. There is strong evidence that there are a lot more. This excludes the expenses by the local government councils, government parastatals, corporations and state institutions.
Frivolously spent money during the birthday celebration includes the N1,200,000 expense on production of personal memoir of the governor with cheque number 00000695 of Intercontinental Bank. Another N7,242,560 through cheque number 00000692 of Intercontinental Bank was also expended on the occasion without explanation of the purpose. The relevant voucher simply recorded this expenditure as "oiling government machinery".
Furthermore, financial record of government also revealed that another sum of N1,500,000 flew out of government's Wema Bank account via cheque number 41640863 with respect to "50th birthday drama presentation". This is not all, the birthday celebration was rounded up with a get-together party at MKO Abiola stadium. This cost the State a scandalous N5,260,000 via Wema Bank cheque number 41640885. His 49th birthday in 2005 also took away, among others, the sum of N1,550,000 through Bond Bank cheque number 00001821. For the 49th birthday, a lecture cost the people N807,400.. The cheque used for this was number 0000822 of Bond Bank. This is aside from the money spent by one of the state universities.
Other spendings which any sane mind will regard as unnecessary, frivolous, improper and even tragic also come in different shades and colours. All put together, the whole sums up to N487,908,745 of tax payers money. Among them is a N10,000,000 recorded in October 2006 as having been spent in 'mobilizing eligible voters'. On 10th December, 2004, government cash statement recorded that N1,234,000 was spent for "provision for Bode George Soccer Competition". Chief Olabode George is the Deputy Chairman, South of PDP. In the same month, as recorded by the government record, a so called "resolution of conflict between the Oodua Peoples Congress (OPC) and students gulped N2,500,000. Another sum of N5,000,000 was allegedly spent on a certain "provision of logistics and financial support".
Governor Gbenga Daniel in December 2006 claimed that he spent N7,000,000 on "provision of food and drinks for civil servants on Grade Level 15 and above "during his interactive meeting" with them. He got paid according to government cash position of 14th December, 2006. The on-going campaign rallies of the governor across the state also exact their toll on the state finances. An example of this is the June 30, 2006 expenditure of N3,370,000 of the State. All manners of events claimed government money in Governor Daniel custody. For instance, cheque number 00004192 for the sum of N3,000,000 was issued with respect to an 'award night' in Ogun state.
The list is sadly endless. Anyone who is familiar with Oke-Imosan will know Kudirat Abiola Complex. Otunba Daniel, on assumption of office re-named it South-West Resource Centre. We do not begrudge him for this. What any sane mind would find unacceptable, however, is that the people of the state would be charged N0.5m to inscribe the new name on the building. In other words, writing the name "South-West Resource Centre" cost N500,000. This is recorded in the government cash position of 5th March, 2004. The actual commissioning of the center itself gulped a scandalous N2,325,000 as recorded officially on 6th February, 2004.
Official document of government similarly recorded that N5,000,000 of tax payers money was spent by the governor for a trip to Gombe state in September 2006. Government cash position of 11th September, 2006 revealed that the governor engaged a chartered flight for the trip which purpose was neither explained nor ascertained
The following are few of the other over 314 questionable expenses of the governor.
DATE PURPOSE CHEQUE NO BANK AMOUNT
18.03.05 Emergency Assignment Govt. cash position 7,515,320
18.03.05 Painting of vehicles and okadas to OGD Govt. cash position 2,000,000
22.09.06 Meeting Council Members Govt. cash position 1,700,000
23.12.06 Operation of administrative machinery 0000451(151) & 00002799 Oceanic Bank 8,700,000
B. RISK ALLOWANCE – N303m
The governor of Ogun state appears to be living in morbid fear of the unknown going by facts emerging from claims of huge expenditure on provision of security for the governor. This lurid expenditure is incurred inspite of heavy load of security provided by government law enforcement agencies such as the police and state security service among others.
Financial documents of government expenditure available to DDM with regard to the large sum of money allocated for the governor's security would make anyone wonder – "who has this man offended?" and "why is he so much frightened?"
A frighteningly huge sum of N303 has been expended on what the government called "payment of Risk and Security Allowance (RSA) and Special Security Vote" for the governor. It should be noted that this sum is different from the statutory security vote which itself comes to the governor monthly. It also excludes monthly expenditure to the police and other security agencies for the smooth running of their operations.
Risk and Security Allowance is collected through the office of the Secretary to the Government on behalf of the governor on monthly basis. An monthly minimum of N5m fly out of government coffers through this channel. A few instances: the office of SSG picked a cheque of N5,095,455 on 24th July, 2006. The cheque is that of Guaranty Trust Bank number 00004800. According to government record, the money is for "Risk and Security " for the month of May 2006 alone. Another N5m was picked on 17th July, 2006 through cheque number 000004784 of Guarantee Trust Bank for the month of June 2006. For a single month of September, two years ago in 2004, the sum of N8.8m was snatched from government treasury for the same purpose. Number of cheque is 031639439 of 5th November, 2004.
What will most likely wrench anyone's heart as it is soul-tearing, however, is the shocking discovery that the governor each time he embarks on his on-going "assessment tour of government projects (farewell tour)" he billed the people of Ogun state N10m as "special security vote". On 7th June, 2006, for one of such tour, a Wema Bank cheque number 41641060 of N10m was issued as "special security vote for the Governor's Assessment tour of projects executed". On 12th May, 2006, another N10.2m was spent in this regard through cheque number 41640973 of Wema Bank. So far, no less than N90m has gone into private pocket of the governor under the cover of "special security vote" which the statutory security vote ought to have taken care of.
C. CHOICE BAND AND GATEWAY FRONT
As the spending spree continued to exact its toll on the till of Ogun state government, Otunba Daniel's private musical outfit, Choice Band, also benefited from the government largesse. The governor set up the Choice Band during the campaign preparatory to his becoming governor in 2003. Upon his swearing in as the governor, he converted the band to the official band of government, even though there was an existing musical group in the department of culture within the government. He has been using the band from the very beginning of his government as a megaphone towards plans for his second term. Records available to DDM suggests that some N35,619,000 has gone into making the band comfortable. The band got the sum of N10,000,000 as honorarium according to official cash position of 24th December, 2004. The document also on 18th March, 2005 recorded that N6,588,750 was spent on purchase of musical equipments. Other expenses also abound with respect to the band covering cost of transportation, repairing equipments and welfare of members. An example is another honorarium of N1,800,000 of 9th September, 2004 to members.. The government of Otunba Daniel also pays members of the band monthly honorarium of N1,225,000 aside from other monthly expenses. An example is the one recorded on 11th March, 2005 by government cash position.
Similarly, the Gateway Front Foundation, GFF, personally owned by Otunba Daniel and his wife, Yeye Olufunke Olubunmi Daniel, had most of its bills picked by the government of Ogun state. A certain "financial assistance to GFF" was recorded on 17th October, 2003 to the tune of N510,000 of government money. Provision of photographs by GFF also illegally cost the government a whooping sum on 12th December, 2003. These are just a few of the so many payments made to the organization.
The Gateway Front Foundation was the political campaign organization used by the governor when he was campaigning to become the governor prior to 2003. You will also recollect that the land in which the governor's hotel in Abeokuta was built was allocated by the governor to Gateway Front Foundation through C of O No. D024245 of 16th February, 2004 personally signed by the governor.
D.. WOMEN IN POLITICS – N73m
The salacious tale of inappropriate spending of Ogun state fund is not restricted to these acts of frivolous spending alone. Since 2004, the government of Otunba Gbenga Daniel has expended various huge expenditure on women of the PDP in the name of stipend. At the last recorded instance, no less than N73,452,000 has been expended on quarterly provision for this group of politicians. In the third quarter of 2005, the sum of N2,490,000 was released from government treasury to the 83 members of the group. This is contained in the government official cash position of 2nd July, 2004. By 13th May, 2005 the sum went up to N5,190,000. The money was pulled out from government's First City Monument Bank account with cheque number 00040534. This same amount of N5,190,000 was also expended for the same purpose as recorded by cash position of 27th October, 2006. Wema Bank account of government also suffered the fate of depletion to the tune of N5,190,000 through cheque number 41671093 in July 2006. First City Monument Bank account of government was similarly pummeled to the tune of N2,490,000 in May 2004 through cheque number 708144 while cheque number 00004818 of Guaranty Trust Bank pulled government money out for the favoured women of PDP in August 2006. There are many more. Ogun stakeholders would want the governor to unveil the identities of all the 83 women in politics who are paid from government treasury. It is frustrating to the toiling masses of Ogun state who have consistently remained cheated, oppressed and depressed.
E. GATEWAY HOTEL – N280,652,000
In similar vein and in no small measure, the unwieldy number of appointees, hangers-on, associates and friends of all sexes of the governor of Ogun state, Otunba Daniel, has taken its crushing toll on the finances of the state. It is instructive that inspite of the history the Daniel administration created as the government whose officials occupied the most quarters since the creation of the state in 1976, huge sum of financial obligation is owed the three Gateway Hotels in terms of lodging, feeding and other comforts enjoyed by lodgers on government bill.
Government cash position of 20th November, 2003 recorded that a huge sum of N3,500,000 was paid to the Hotel as part payment of outstanding bills. By April 2004, the state government debt to the hotel steadily rose to N15,000,000. This amount was paid from government coffers along with another N10,797,013 in April and May 2005. In May 2004, the hotel received a cheque of N10,153,573 through cheque number 3878671 of Gateway Bank account of government. An Oceanic Bank cheque of N20,000,000 bearing number 0000875 was also issued by government to the hotel to settle outstanding bill. Ogun state treasury was depleted in June 2006 for another settlement of hotel bill to the tune of N10,000,000. Cheque number 41671022 of Wema Bank took care of this. The listed cases are a drop in the ocean.
In all and in accordance with official documents at the disposal of DDM, the Daniel administration has expended a total sum of N280,652,000 on settlement of hotel bills alone. It is even more worrisome, as the state government is presently owing the Gateway hotels the sum of over N45,000,000 (Forty Five Million Naira). One wonders what the business of this government is to warrant such huge hotel expenditure. See table below for more expenditure on hotels:
HOTEL BILLS
DATE PURPOSE BANK CHEQUE NO. AMOUNT
16.04.04 Settlement of outstanding bills Government cash position 15,000,000.00
28.05.04 Settlement of bills GATEWAY BANK 3878671 10,153,573.00
10.09.04 State Government debts Government cash position 5,000,000.00
10.09.04 Settlement of bills Government cash position 5,954,487.00
24.12.04 Settlement of government bill Government cash position 5,655,276.95
02.12.05 July & August 2005 bills Government cash position 5,079,270.00
23.06.06 Services rendered WEMA BANK 41671022 10,000,000.00
14.07.06 Bill for the month of April 2006 OCEANIC BANK 0000815 20,000,000.00
16.12.06 Settlement of outstanding bills GUARANTY TRUST BANK 000039321 1,681,018.00
Bills for the month of September GUARANTY TRUST BANK 00004061 15,000,000.00
F. CLAYPOT CATERING – N47,297,497
With the scaringly huge figure expended on services of government-controlled Gateway Hotels, any prudent person would conclude that Otunba Daniel's crowd have lodged, wined and dined in comfort to last a life time. It is not so with them. The governor's crowd is also beneficiary of the culinary dexterity of a catering services company, Claypot Catering Limited. This caterer came into reckoning in the state from the inception of this government in 2003. The services of the official catering company to the government has cost Ogun state tax payers N47,297,497.. In July 2005, the company picked up a cheque of N7,000,000 through cheque number 00000978 of Guaranty Trust Bank. Claypot also picked a cheque of N1,500,000 through cheque number 025737807 of Wema Bank in May 2004. In March 2006, a cheque of N5,131,252 bearing number 00005868 was also paid to Claypot for services rendered to friends and associates of Governor Daniel. There are several other payments to the company. One starts to wonder whether all there is to governance is just about provision of food and drinks. This government does not appreciate the biblical saying that states you shall not live by bread alone. The following table explains further.
CLAYPOT CATERING SERVICES
DATE PURPOSE BANK CHEQUE AMOUNT
26.09.03 Catering Services Govt. cash position 1,900,000
24.12.03 Services rendered Govt. cash position 1,800,000
27.02.04 Catering Services Govt. cash position 1,750,000
14.05.04 Service at Govt. House WEMA BANK 025737807 1,500,000
05.11.04 Service at Govt. House Govt. cash position 667,027
26.11.04 Catering Services Govt. cash position 1,200,000
26.11.04 Service at Govt. House GUARANTY TRUST BANK 00000978 700,000
18.03.05 Catering Services Govt. cash position 736,678
02.12.05 State Govt. Guests – April Govt. cash position 1,117,028
17.03.06 Catering Services – 2006 Treasury Board Meeting 00005868 5,131,252
As reported also in our series 14,15 and now 16, a lot of money which otherwise could have been better judiciously spent has gone into servicing personal cravings. The summary of the ones we have highlighted so far is as follows:
S/N BENEFICIARY
AMOUNT
1. Artistes 100m
2. Clocks 87m
3. Billboards 150m
4. Media Campaign 360m
5. "Newsletter" 70m
6. Choice Band 50m
7. Governor and Wife's Foreign Trips 450m
8. Governor's Expenses 718m
9. Kaylord Motors 1.8b
10. Peoples Democratic Party (PDP) 18.6m
11. Frivolous Spending 487.9m
12. Women in Politics 73m
13. Gateway Hotel 280.6m
14. Claypot Catering Limited 47.2m
15.. Law and Order 281m
16. Cultism/Thuggery 23m
17. Risk Allowance 303m
T O T A L 5,346,500,000
3. OUR BLUE PRINT
As reported in our last edition, we are pleased to inform the general public that we have completed our Blue Print for the liberation and positive transformation of Ogun State to make life more abundant for the people. This action plan, for strategic reasons, would only be released from the second half of December 2006.
The blue print gives clear and specific details of what, by the Special Grace of God, our Action Congress government in Ogun state headed by Otunba Dipo Dina (D.D. Direct) will do in rendering purposeful and selfless service to our people from 29 May, 2007 when, by the Grace of God and the support of the people, Otunba Dipo Dina will be sworn in as the next Ogun state governor.
OTUNBA GBENGA DANIEL ADMINISTRATION IN OGUN STATE: AN ASSESSMENT
(SERIES 17)

1. INTRODUCTION
In the first sixteen editions of these series which were published in various national newspapers, DDM, led by Otunba Dipo Dina (D.D. DIRECT), commended laudable strides, where such existed, and unearthed some among the myriad of deficiencies of the Otunba Gbenga Daniel administration. In this series, we shall dwell on "THE PROPAGANDA GOVERNMENT - ANATOMY OF THE PRODIGAL".
2. ANATOMY OF THE PRODIGAL 4
(i) Preamble
In the last three editions of the Dipo Dina Movement series, a lot of facts were provided to show how the Daniel administration in Ogun state has plundered the treasury since May 2003 when Otunba Gbenga Daniel assumed custody of the finances of the state. In graphic factual detail, we narrated how the governor dipped his hands into the treasury and authorized payment of over N5.4b of the people's money under all kinds of guises including phantom 'donations', endless claims or reimbursement of the governor for expenses allegedly made, huge financial claim for unverifiable 'emergency assignments' and outright false claims of heavy sums. Others areas of fraud perpetrated and reported by DDM includes imaginary purchases especially scores of automobiles, heavily inflated, unnecessary and sometime unreal expenditure on billboards and media expenses. We also categorically stated how he and his wife, Yeye Olufunke Daniel short-changed the state to the tune of N450m on largely personal trips abroad.
(ii) A Mortgaged State
What will however be considered most condemnable is the fact that greater chunk of the huge sum of money mindlessly misapplied by the governor are loans obtained from banks. As you read this, you will be shocked to know that the state is indebted to banks to the tune of over N6b. The following narration will lead you into the underbelly of mismanagement of resources and blatant disregard for economic growth and development of the state. It also shows a government that is not bothered about the future of the younger and unborn generation, by not keen on leaving a good, enviable and enduring legacy. But before we move on, here is an assurance to the banks.
(iii) Banking Relationship and Support
We wish to state unequivocally that we in DDM do not have any ill feelings towards the banks who do business with the state government. Infact, part of the reasons why banks are in business is to support the government in its various projects and programmes in the overall objective of growing the economy. The banks are meant to make money through lending out money deposited with them for onward use by those who need such. We wish to state that what we are against in this series, the earlier ones and subsequent series, is what the money borrowed by the government is used for. It is on record that the Osoba administration did not go about obtaining loans from the banks for flimsy projects. If the loans obtained by the Daniel administration had been used for productive and viable projects, we would not have raised any objection.
Our major grouse is that such loans were expended on things that do not add value to the economic growth, well being and development of Ogun state. We wish to assure the banks that we in DDM appreciate their importance and the strategic pivotal role they play as catalyst for quick economic growth. We want to assure the them of our unflinching preparedness to partner with them for the realization of smooth re-engineering of the development of the state for real growth when by May 29, 2007 through God and with the support of our people our Otunba Dipo Dina (D.D. Direct) is sworn in as the next Ogun state governor.
3.. WALLOWING IN DEBT
(a) Olumo Rock Redevelopment – N650m
In January 2006, Oceanic Bank Plc granted a N500m loan facility to Ogun state government for onward utilization by Rafsaco Nigeria Limited, the contractor which handled the Olumo rock redevelopment work. The loan was taken to augment other funds for the project which amounted to N650m. Ogun state government headed by Otunba Daniel took the loan and also guaranteed to re-pay the loan with interest and all related bank charges.
Rafsaco was the contractor that was awarded the re-development project of the Olumo rock. It is widely held that the real reason why the government had to hurriedly apply for and obtain the loan for the re-development of Olumo rock was because the governor's company – Kresta Laurel, wanted to supply the 3 lifts for the project. You will recall that the governor's company supplied and installed the 3 lifts being presently used at Olumo rock. The 3 lifts form the major component of the contract, hence the payment for the 3 lifts got the largest chunk of the N650 million expended on the project.
A letter dated January 19, 2006 from the bank put effective date for the loan at the above date while it has to be paid up by March 20, 2007 thus allowing for a pay back period of 14 months. This includes the 17.5% interest per annum, management fee of 1%, processing fee of 1% aside from COT and other charges. To be sure its money would be recovered, the bank caused the state government to issue irrevocable standing payment order that monthly payment of N35,714,285.71 would be deducted from the state's federation allocation proceeds and internally generated revenue every month. The irrevocable payment instruction was dated 20th January, 2006 and signed by senior government officials. By February 2007 when the loan is expected to have been repaid, interest alone will amount to N53,184,931.51 thus bringing total indebtedness of Ogun state to the bank to N553,184,931.51.
The interest element, apart from other bank charges, is an avoidable expenditure if the loan was not taken. Is there really the need for such a loan? Imagine what the N53m interest on the loan alone can do for the people of Egba area. The Egba people see the investment of N650m on the re-development of Olumo rock as a monumental waste as it does not meet with their needs. They prefer to ensure that their taps run with good potable water, good motorable roads, provision of necessary facilities for their secondary schools, affordable health care delivery system and employment opportunities for a large number of graduates roaming the streets, among others. The people's view was that if the Olumo rock needs to have such a huge sum of N650m invested in it, it would have been better to have it done completely by private investors.
(b) (i) Trailer Park, Ogere/Iperu – N1.5b
It is disheartening to know that the trailer park built by the state government at Ogere/Iperu which is yet to be fully utilized as a result of the disagreement between the state government, trailers owners union and the trailer drivers, was funded solely from loan obtained from the bank. The loan was obtained to service the building of the trailer park whose contracts were mainly awarded to the cronies of the governor.
The loan for the park along with Owode Yewa International Market was sourced from Intercontinental Bank in November 2004. The value of the loan is N1.5b. While granting the facility, the bank charged 21% interest rate. Loan is payable over a 24-month period. The bank also charged 1% management fee, monitoring fee of 0.5%, VAT and COT. The bank also insisted on monthly instalmental repayment from the government's federation account allocation. The government paid the bank up to September 2006 when the arrangement was restructured and total indebtedness of the Daniel administration came down to N1b which is the figure as at now.
(ii) Owode International Market: N1b
By April 2004 again, the Daniel administration went cap in hand to another bank – Wema Bank Plc – for a billion naira loan. At first, the government did not specify what project the sought loan was meant for until Wema Bank on 26th April, 2005 insisted in writing that it would not grant the loan except specific projects were listed "in conformity with statutory requirements of the regulators". The facility was made available to the Daniel government in July 2005 on 17% interest rate per annum inclusive six months moratorium requested by government. Aside the interest, management fee of 0.5% and processing fee of 0.5% apart from VAT and COT were charged. The government is required to surrender N100m monthly from its federal allocation which stands as security for the loan. The tenor of the loan stands at 18 months and repayment runs from January 2006. The interest on the loan therefore comes up to N202,862,439.
In September 2006, Zenith Bank was approached for another loan of N300m payable in 6 months.. Interest rate was pegged at 18.5%. The bank also charged management fee of 0.5%, processing fee of 0.25% and commitment fee of 0.5%. Repayment schedule is given as six "equal consecutive monthly payment of the sum of N52,732,307.98 from Ogun state federal allocation account with Intercontinental Bank. By bringing Intercontinental Bank to guarantee the loan, the bank also charged its own interest.
Please note that although the market is yet to operate, loan is already being repaid. The Yewa/Awori people have not hidden their disdain for the misplacement of priority. Their view Is that good road, potable water, electricity, schools and functional hospital will serve them better. The counterpart of the market in Sagamu, although completed, is yet to be put to remarkable use. In June 2006, the Daniel government pulled out N10,000,000 from government account to purchase shuttle buses to lift people almost free to the market when people would not patronize it!
(c) Ijebu-Ode Stadium Re-development – N2b
On three occasions in 2005 and 2006, the Daniel administration took a total of N2b loan from Guaranty Trust Bank. The loan was taken with respect to the Ijebu-Ode Stadium project preparatory to the Gateway Games of 2006. First, the government approached the bank in January 2005 and obtained a loan of N1b. According to a memo dated 14th January, 2005, the loan was necessary as Aron Nigeria Limited, the project contractor, could not source the fund on its own. The memo stated that the loan would be "warehoused by the state government and be periodically released to Aron Nigeria Limited whenever approval for payment is released". The memo forwarded and approved by the state governor Otunba Daniel stated that the facility would be paid in 24 equal monthly instalments and from "our internally generated revenue and federation account allocation".
The bank charged 19% interest on the loan apart from 1% facility fee, 1.5% management fee, VAT, COT, etc are also included. Thus, from February 2005, Guaranty Trust Bank took N41.67m monthly from government account domiciled with the bank. By this arrangement, by January 2007 when the loan would have been fully repaid, the state would have paid N187,397,260.26 as interest alone. Is this not an avoidable expenditure? However, by November 2005 the government again approached the bank for an additional loan of N500m which was granted, thus bringing the facility to N1.5b. From the initial monthly repayment of N41.67m, monthly repayment came up to N61m. The government lived up to the repayment schedule up till January 2006 when it went back to the bank for another N500m thus bringing the facility sourced on behalf of Aron Nigeria Limited to a whooping N2b on the stadium project alone. On monthly basis, the bank now picks N96m from the state government directly from federation account. As at now, the state government has spent well over N4.5b on the stadium alone.
This is a project largely seen by the Ijebu people as a white elephant as it does not meet with their needs. The Ijebus are eager to have potable water supply, good motorable roads, employment opportunities for the children, efficient running of the State Hospital (when Power Holding Company Nigeria takes away electricity supply, the place is always in darkness), affordable food supply, properly run public schools, amongst other things.
(d) Comil Buses – N168m
The Daniel administration stuck its head into another debt in March 2004 with respect to purchase of 12 Comil Svelto buses for its transportation project. According to government official record, the administration offered a Lagos-based automobile Company, Utobras Nigeria Limited the contract to supply the buses in the sum of N168,000,000.
The actual cost of the buses according to government documents is N110,554,000. Interest on the loan is N58m and the sum goes to Universal Trust Bank while 2% pricing of the contract sum which is N3,360,000 is payable to Gateway bank. In essence, the interest paid to banks for financing the buses comes to N61.3m aside from other bank charges. Is this a really wise investment?
The automobile company approached its bankers, then Universal Trust Bank for a loan to service the project. The bank refused to grant the loan facility unless it had a bank guarantee issued at the instance of Ogun state government that it would recover its investment. The Daniel administration consequently approached Gateway Bank which on 8th March, 2004 issued the guarantee in favour of Utobras Nigeria Limited on an interest of 2% flat of the total sum guaranteed. Gateway Bank offered the facility on condition that, among others, government would continue to domicile its monthly federal statutory allocation with the bank. The bank also asked for 12 post-dated cheques to cover 12 equal monthly repayments.
In other words, this loan was being managed by two banks each of which collected its interest and other charges. One of the many questions that arose in this deal is why should the state government caused Gateway bank to guarantee the loan, thus increasing the debt profile the government was eventually saddled with? Why shouldn't the government simply approach Gateway Bank, pick its loan and purchase the buses directly thereby doing away with a middleman bank?
In no time the bubble burst. According to the contract terms, the 12 monthly instalmental would commence immediately the buses were delivered by Utobras Nigeria Limited. The company delivered them on September 27, 2004 and they were commissioned by Governor Daniel on October 1, 2004. Utobras however received the first payment in December 2004 leaving two instalments in arrears. Its bank came calling and Utobras, now frustrated, wrote on June 27, 2005 "it is disheartening that the state government has reneged in her obligation in the contract by default payments. We are left at the mercy of our bankers with penalty interest rate of 37% per annum". Utobras went further, "our bankers, Universal Trust Bank Plc apparently disappointed with non-compliance of the repayment schedule is already threatening to challenge the Gateway Bank guarantee, meaning that the Central Bank of Nigeria will force Gateway Bank to honour its guarantee by paying all the debt with interest". Is it worth putting the government in such a ridiculous situation in the first instance? The answer is NO.
It is noteworthy to state that the buses have various inscription on them ranging from OGD workers, OGD students, amongst several others. Is OGD the benefactor or personal employer of the workers or the father of the students? After all, the banks are being paid from tax payers money.
(e) Gateway Holding – N1..74b
In July 2004, the Daniel administration reached for another loan. This time through the Daniel administration-created Gateway Holdings. The loan, according to government, was sourced to finance equipments purchased by Gateway Holding. As is the pattern in previous cases, government of Ogun state was committed to guarantee the loan which came to N1.74 billion including a whopping interest of N641m. The actual cost of the equipment was N1.094b.
The loan was sourced in favour of Bibson Engineering, a private Lagos-based engineering company. The firm sought to sell various road construction equipments to Gateway Holding.
Bibson's bankers asked for a guarantor in the form of a bank in which the government domiciled its internally generated revenue account and federal allocation account. Intercontinental Bank Plc came in handy at this point. For consenting to guarantee the loan, Intercontinental Bank charged an interest of 0.75% payable upfront. The loan has a validity period of 36 months. By the terms of the agreement, a special condition was introduced. The special condition is "the government shall issue a post-dated cheque (dated 1st March, 2007) for the sum of N365,324,752 (Three hundred and sixty five million, three hundred and twenty four thousand, seven hundred and fifty two naira) in favour of Intercontinental Bank being instalmental payment for the period between March and October 2007". The bank opted for this smart move because it was eager to cover its exposure in case the government changes (which, by the Grace of God, it will) as a result of the coming gubernatorial election in April, 2007.
The government, through a letter of authorization dated 27th December, 2007 to Intercontinental Bank, gave an irrevocable and unconditional authority to the bank to deduct the sum of N365,324,752 from its statutory allocation account anytime from 1st March 2007. This goes to show that the Daniel administration has already committed his successors (By the Grace of God, Action Congress government led by Otunba Dipo Dina) to the loan of that magnitude. This is not the only one. There are several others.
As in other cases, double interest was charged on this loan. In other words, while Bibson's bankers charged its own interest on it, Intercontinental Bank also did same thus bringing the interest profile alone to a frightening N641m.
Before this however, Gateway Holding had already taken a loan of N175m in December 2004 from a second generation bank. The loan, according to available documents, was sourced to finance purchase of public transportation buses. The tenor of this loan was given as 27 months on 19.5% interest per annum apart from 0.25% management fee per quarter, 0.5% advisory fee, and also COT and VAT.
(f) Another Bank Loan
A loan of N450m was taken from a second generation bank in December 2004.. Interest charged was 17.5% and the loan was payable in 24 months from Ogun state internally generated revenue. On this loan, advisory fee of 1% was charged apart from other charges.
In August 2005, the same bank granted Ogun state government a loan facility of N1b. This loan also attracted an interest rate of 17.5% and expired in 18 months. The loan, like the others, was to be serviced from monthly federal allocation proceeds for the state and internally generated revenue. Other charges apart from interest are also applicable.
The government also maintains several note discount facilities with this bank. This facility runs into billions of naira. Note discount facility are short term loans usually payable in days. Because of the shortness of repayment period, they attract heavy interest. In most cases, when the government cannot redeem its obligation to repay, the note discount facilities are usually rolled over. A lot of interest charges are also payable by the government on these Note Discount Facilities.
(g) Bond Bank
In the case of Bond Bank, it is only highly favoured in the area of deposit. Loans were usually not taken from it. It is preferred to the others whenever government had deposits to make. For instance, a controversy raged among top officials of government when the bank offered to do a 14% interest on a N20m deposit from the current account of Assemblemen Motor Vehicle account. That was in April 2005. Gateway Bank and Oceanic Bank offered 16.5% and 16% respectively. But the government preferred to lodge the money with Bond Bank on the excuse that "what is important is the safety of government money". The question arose as to whether government money was no longer safe in Gateway Bank owned partly by the government itself or Oceanic Bank which offered better interest profile on the deposit. It is a known fact that Otunba Gbenga Daniel is a major shareholder in Bond Bank.
It is instructive to note that the first 3 oldest generation banks are not involved in the main banking transactions of the government for reasons best known to the people in government.
4. A GLIMPSE OF DEBT PROFILE
The following table represents total bank charges for he period indicated. Charges by banks is a eflection of transaction with banks. In the case being discussed, interest on loans takes a great deal of the charges. Other charges include COT, VAT, administration and penalty charges, among others.
2003
(June – Dec) 2004
(Jan – Dec) 2005
(Jan – Dec) 2006
(Jan – May) TOTAL
Bank charges and interest N16,501,529 N77,263,440 N833,470,667 N2,211,692,359 3,138,927,995
From the above table, it is clear that by May 2003 when Otunba Daniel took over, no loan was ever taken by his predecessor, Chief Olusegun Osoba. This is reflected in the meager sum of N6.5m for the last six months of 2003 when Governor Daniel was in charge. However, by 2004, the tap of bank charges were released full blast with N77.2m as charges alone. In 2005, it went further up to N833.5m. The alarm bell came in 2006 with the sum of N2.2b going for interest and other charges by banks. This brings the total to N3.1b bank charges. When this is added to the N6.3b, value of various loans itself, our dear state is in for a N9.4b mortgage!
Following from this, Ogun state stakeholders are at loss about what the state government did with the enormous resources from federal allocation proceeds and internally generated revenue amounting to over N128b in 31/2 years.
The over N9b debt position of the state under the Daniel administration is big. However, we are undaunted in the believe that, with God on our side, when we get to government on 29th May, 2007, with the help of God and support of the people, we shall embark on a major positive turn around.
All Ogun state stakeholders can now see why the Audited Accounts of the state have not been published.
We are awaiting the published Audited Accounts before we come out with greater bombshell and incontrovertible facts relating to the state finances.
Alhaji Sola Lawal Mr. Saheed Durosaro Apostle Kehinde Bamgboye
Director, Media and Publicity Secretary, Research, Planning Member, Mobilization Committee
And Strategic Committee
DIPO DINA MOVEMENT (DDM)
Secretariat: 62 Old Owode Road, Beside Macjob Grammar SchoSol, Onikolobo, Abeokuta, Ogun State
Tel: 0803 449 2471. E-mail: [email protected] ; www.ddmovement.com; www.ddmovement.org
|
Article source