Iran Airs Footage It Says Is From Downed U.S. Drone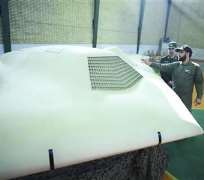 Iran released what it said was the decoded footage taken by a US reconnaissance drone plane that it captured more than a year ago, Iranian media reported.
The grainy footage was broadcast on Iranian television late on Wednesday and showed images of what officials said were a US base inside Afghanistan and several other aerial shots.
It featured narration from the commander of the Islamic Revolutionary Guard Corps aerospace force, Amir Ali Hajizadeh.
"After we decrypted the data ... we realized that this aircraft had made a lot of flights inside regional countries and was directing much fighting in Pakistan," he said, according to Mehr news agency.
In December 2011, Iran said it had captured an unmanned U.S. RQ-170 drone in eastern Iran which was reported lost by U.S. forces in neighboring Afghanistan.
The incident highlighted tensions in the Gulf as Iran and the United States demonstrate their military capabilities in the oil-exporting region in a standoff over Tehran's disputed nuclear program.
Iranian forces were put on alert after the drone's capture in case the U.S. launched aerial strikes to destroy it, Hajizadeh said.
"We had put all our missile bases on alert so if they were to move, we would immediately have bombed their regional bases," Hajizadeh claimed.
Reuters was unable to confirm whether the footage was genuine but Iranian authorities have previously claimed to have decoded much of the data from the downed craft as well as valuable technology.
In a separate incident, in December 2012, Iran said it had captured a U.S. intelligence drone in its airspace over the Gulf. However, the U.S. Navy said had not lost any unmanned aircraft in the area.
REUTERS