Credit Suisse Sees Overhaul Bearing Fruit This Year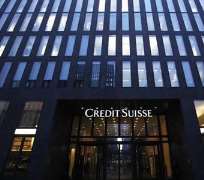 Credit Suisse said it expects steps taken to overhaul its business will bear fruit this year, after fourth-quarter profit missed forecasts because of weak results at its investment bank.
Like peers, Credit Suisse is cutting back riskier assets and reducing costs to meet tougher regulations aimed at preventing a repeat of the 2008 financial crisis.
But unlike hometown rival UBS, which is scaling back its investment bank, Credit Suisse is focusing on that business, even though the new rules make it harder to turn a profit from trading.
Pretax profit at the investment bank dropped 38 percent, with low levels of business activity in both its fixed-income and equity arms.
But the performance was better than UBS and Deutsche Bank, which reported fourth-quarter losses in their divisions.
"The main disappointment with the results come from the investment bank, where revenues in fixed income and equities were a little light," said Kepler Capital Markets analyst Dirk Becker. "But it was still the best result among the European investment banks."
Credit Suisse made fourth-quarter net profit of 397 million francs, missing analysts' average forecast of 645 million in a Reuters poll, as it took 304 million francs in charges related to its own debt.
Chief Executive Brady Dougan said on Thursday steps taken to boost capital and cut risks and costs were starting to pay off.
"Going into 2013, revenues have so far been consistent with the good starts we have seen to prior years, with profitability further benefiting from the strategic measures we took in 2012."
The Zurich-based bank said it would cut costs by 4.4 billion Swiss francs ($4.8 billion) by the end of 2015, up from a previous 4 billion target, by folding its asset management unit into the private bank and by moving some jobs offshore.
Credit Suisse shares, which have risen 21 percent so far this year compared with just 10 percent for UBS, were up 2.2 percent at 1008 GMT, compared with a 0.9 percent firmer European bank index and a rise of 0.3 percent for UBS.
PRESSURE ON TAX EVASION
UBS reported progress in overhauling its investment bank on Tuesday but its flagship wealth management unit disappointed, weighed down in Europe where Switzerland is under fire for helping tax cheats.
Credit Suisse said net new assets from wealth management clients fell to 2.9 billion francs in the fourth quarter from 4 billion a year earlier. Like UBS, it suffered big outflows of money from clients in Europe due to the tax crackdown.
For the year, clients from western Europe withdrew 6.9 billion francs, while clients at Clariden Leu, a boutique bank integrated into Credit Suisse last year, pulled 7.5 billion.
"We expect this to continue over the next six months," said Vontobel analyst Teresa Nielsen.
There is also a risk from potential provisions for future litigation, she added.
Credit Suisse has already made provisions of $325 million to settle a U.S. investigation into allegations it helped wealthy Americans evade taxes, but said on Thursday it could not give any information on timing of a settlement.
The bank said it does not expect to have any material hit from a global investigation into rigging of benchmark interest rates, adding it will vigorously defend itself against civil lawsuits relating to Libor.
"CS remains our preferred choice in the investment banking space, based on earnings momentum, timeline to high dividend yields, plus its relative lack of exposure to Libor issues," said Nomura analyst Jon Peace.
UBS accepted a $1.5 billion fine for rigging Libor and other benchmark rates in December, while Royal Bank of Scotland was fined $612 million on Wednesday by U.S. and British regulators.
Credit Suisse said risk-weighted assets (RWAs) fell by 99 billion francs to 924 billion francs, close to a year-end target for less than 900 billion francs.
The bank has been coy about how many jobs it plans to cut beyond the 3,500 jobs it said it would axe in November 2011.
It employed 47,400 staff at the end of December, meaning it shed 2,300 in 2012.
Credit Suisse said it would pay a dividend of 0.75 francs per share, with 0.10 francs in cash and the rest in shares. It expects to lift key capital ratios by mid-year, allowing a return to an all-cash payout, finance chief David Mathers said.
REUTERS