Why Completion Of East-West Road Is Delayed - Orubebe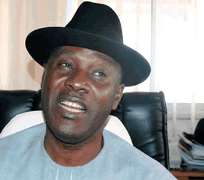 SAN FRANCISCO, February 05, (THEWILL) - Minister of Niger Delta Affairs, Elder Godsday Orubebe, has adduced reasons why the East-West road has not been completed up till date despite its strategic importance, blaming inadequate funding and insecurity in the area for the delay.
Orubebe, who adduced the reasons, Tuesday in Abuja, during an interactive session with the House of Representatives committee on Niger Delta affairs, lamented that the 338 kilometre dual carriage way which traverses the heart of the Niger Delta region had suffered a lot of challenges because of inadequate funding and insecurity in the region.
"On many occasions, kidnap of expatriates had led to low morale at sites and tension which even affect us in the ministry as families of expatriates call from their home offices to ask questions," the minister said.
He explained that threats to safety of lives and kidnappings which led to several stoppages at different times also affected the progress of work on the road.
"There was the kidnap of six expatriates working in the area between November and December 2012 with two lives lost and several injured in the process which led to the suspension of site activities in both Sections I & II subsequently. Early January 2013, there was another attempted kidnap of an expatriate staff of Setraco. It is also important to mention that the early rains experienced this year in the project area is affecting progress," he disclosed.
Earlier, chairman of the committee, Hon Warman Ogoriba, said the meeting was to know the challenges facing the project and find ways and means of solving them.
It would be recalled that Orubebe and the Rivers State governor, Mr. Rotimi Amaechi, tackled themselves recently over the non-completion of the road with Amaechi calling for the resignation of Orubebe over the delay as he described the minister as a failure.