STATUS OF FINANCE ON ANAMBARA FLOOD VICTIMS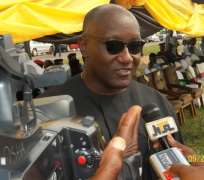 The Chairman, Anambra State Flood Disaster Relief Coordinating Committee and Secretary to the State Government, Mr. Oseloka Obaze says the Anambra State Flood Emergency Fund accounts balance consisting of donations from the Federal Government and donors of about five hundred and nine million Naira (N509,000,000) remains intact.
In a report made available to journalists, Mr. Obaze said all resources spent so far in tackling the flood disaster, totaling about one hundred and twenty eight million Naira were on account of the State government.
He disclosed that disbursement of these funds will commence in February, 2012 once the Board of Trustees review the target sectors and needs assessment and determine the sector requiring the most critical intervention, especially in the light of the many SOS letters received from finance institutions, cooperatives and individual on loans obtained for farming that needs to be amortized.
Mr. Obaze explained that the committee intends to finalize the preparation of the State's strategic multi-sectoral plan to ensure the implementation phase commences as soon as possible to decrease the hardship currently experienced by the affected communities.
He said the plan would also recommend measure to be put in place to ameliorate future flooding and respond more proactively, should there be a reoccurrence. The Committee Chairman recalled that the assessment of the State Flood disaster response programme has been adjudged positive and successful in spite the fact that the flood disaster was a complex emergency of the kind never experience in Nigeria.
He reassured that necessary measures were put in place to ensure that funds meant to ameliorate the hardship of flood victims do not fall into the wrong hands and efforts have been sustained to ensure equity.
Mr Obaze said the State was looking forward to further disbursement of funds from the Presidential Committee on Flood Relief and Rehabilitation to enable it support those affected fully.