Bakassi: House Urges FG To Call For Referendum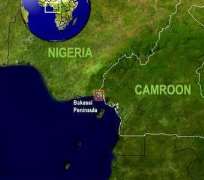 ABUJA, January 31, (THEWILL) - The House of Representatives, Thursday, urged the Federal Government to initiate the process of conducting a referendum for the Bakassi people in Nigeria.
The International Court of Justice (ICJ) had in October 2012 passed a judgement ceding Bakassi peninsula to Cameroon.
But the House at Thursday's plenary through a motion moved by Hon. Ekpeyong Ayi ( PDP-Cross River) unanimously resolved that the executive arm of government should put in place machinery for referendum.
Leading the debate, Ayi said the Bakassi people deserved to be given a platform to exercise their right to self- determination as contained in Article 1 of the 1966 International Convention on Civil and Political Rights.
He noted that incessant and blatant violations and frequent extra- judicial killings by the Cameroonian Authority calls for self-determination of the Bakassi people.
He recalled that Article ( 15) 2 of the United Nations Universal Declaration of Human Rights adopted in 1948 states that " No one shall be arbitrarily deprived of nationality or denied right to change nationality".
The lawmaker said that based on this, Nigerian nationals living in Bakassi the right to exercise their fundamental rights and freedom.
He stressed that the Article 3 of the Green Tree Agreement recognised the rights of the Bakassi people when it says " Cameroon after the transfer of authorities to it by Nigeria, guarantees to Nigerian nationals living in Bakassi peninsula as enshrined in the International Human Rigths law."
Supporting the motion, Hon. Abubakar Momoh ( ACN-Edo) said the ceding of Bakassi peninsula to Cameroon does not meet constitutional provisions.
According to him, the process was a coup against the constitution of the Federal Republic of Nigeria.
He said that section 12 of the 1999 Constitution says that no treaty of the world and any government shall have the force of law without the approval of the National Assembly.
Deputy Leader, Hon. Leo Ogor ( PDP-Delta), said that section 1( 2) of the 1999 Constitution as amended empowered the National Assembly to make laws for the good governance of the country.
He advised the House to look at the matter with its merit.
The Minority Leader,Hon. Femi Gbajabiamila ( ACN- Lagos), said that the issue of Bakassi can not be wished away until the right thing was done.
He said that section 8 (4) of the 1999 Constitution clearly states how boundary adjustment should be carried out.
The legislator said that what happened in the case of Bakassi Peninsula was boundary adjustment and not a treaty.
In his submission, Hon. Andrew Uchendu ( PDP-Rivers) said that the National Assembly has the powers to discuss the issue of Bakassi.