Borno Govt Mulls Law To Protect PLWHAs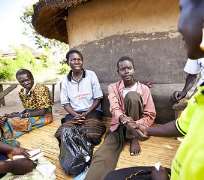 SAN FRANCISCO, January 31, (THEWILL) - The Borno State Government said it has concluded plans to promulgate a law to protect the rights of People Living with HIV/AIDS (PLWHAs) in the State.
Upon promulgation, the law will enable the PLWHAs to sue anyone discriminating against them as a result of their status as the government has expressed its readiness to present a bill to that effect before the State House of Assembly.
The Desk Officer of the Borno State Action Committee on AIDS (BOSACA) at the state Ministry of Justice, Barrister Yagana Gazali, disclosed this, Thursday in Maiduguri, at a workshop for media practitioners on the harms of stigmatising PLWHAs.
Speaking at the workshop jointly sponsored by the Borno State Ministry of Information and BOSACA,Gazali disclosed that the bill, which will provide appropriate penalty for any person or organisation which breaches the rights of PLWHAs, will also allow the people discriminated against to enforce their fundamental human rights in the court.
The BOKASA Desk Officer said that the bill, aside protecting the rights of the PLWHAs at the workplace, will also protect their rights at social gatherings as it will akso moderate the landlord/ tenant relationship and make them have non-discriminatory access to public utilities and facilities.
According to Gazali, the purpose bill is to allow the PLWHAs to have equal rights and opportunities like any other person as enshrined in the 1999 Constitution as amended.
She explained that the bill is aimed at promoting and protecting the rights and dignity of workers infected and affected with HIV/AIDS.
It will also provide workers access to HIV/AIDS information and services to enable them take appropriate action to protect themselves and help manage and mitigate the impact within the work place and eliminate stigma and discrimination based on real or perceived HIV/AIDS status.
The State Commissioner for Information, Mr. Inuwa Bwala, who also spoke at the workshop, said HIV/AIDS is like any other illness. He said as a normal phenomenon, whoever contacts it should be assisted to deal with it rather than be stigmatised.
He advised Nigerians to change their attitude towards the PLWHAs before the law comes into effect .