326 Killed In Nigeria Religious Violence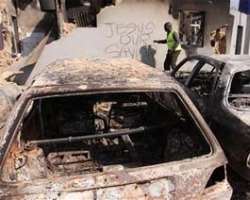 Sectarian violence between Christians and Muslims in central Nigeria left 326 people dead last week, a state police commissioner said Monday, pledging to bring those responsible for the killings to justice.
Acting Plateau State Police Commissioner Ikechukwu Aduba said officers have arrested 303 people in connection with the rioting in Jos, a one-time tourist and mining town that straddles Nigeria's Christian south and Muslim north. Of those arrested, 139 have been taken to Nigeria's capital, Abuja, for questioning.
Aduba said more suspects remained at large, including those who took part in killings that nearly wiped out a small village on the southern outskirts of Jos. Volunteers there discovered bodies shoved into communal wells and sewer dumps. Others lay dead in the bush outside the village, victims of gunshot and machete wounds.
Aduba also promised those arrested would face trial in Jos. Government leaders in Jos have complained that those involved in previous riots later made bail in Abuja and never faced justice.
Sectarian violence in this central region of Nigeria has left thousands dead over the past decade. The latest outbreak came despite the Nigerian government's efforts to quell religious extremism in the West African country.
There are conflicting accounts about what unleashed the recent bloodshed. According to a state police commissioner, skirmishes began after Muslim youths set a Christian church ablaze, but Muslim leaders denied that. Muslims say it began with an argument over the rebuilding of a Muslim home in a predominantly Christian neighborhood that had been destroyed in November 2008.