Sudan's Ousted Pm To Challenge Bashir In Election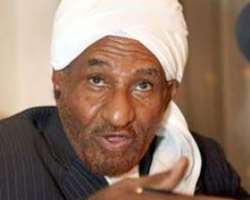 Sudan's former prime minister Sadiq al-Mahdi
Sudan's former prime minister Sadiq al-Mahdi, who President Omar al-Bashir ousted in a military coup 20 years ago, will run against him in the April elections, his party said on Monday.
Mahdi, 74, heads the influential Umma opposition party and is spiritual leader of "Ansar," a Sufi brotherhood that venerates the famous Mahdi who defeated British colonial forces under General Gordon in 1885.
"He has been nominated presidential candidate," an Umma party official told AFP.
Descended from Sudan's legendary Islamist ruler, Sadiq al-Mahdi has held the premiership twice before, in 1966-67 when he was just 30, and again after his party won Sudan's last multi-party elections in 1986.
Umma is the main opposition party in the north, alongside the Democratic Unionist Party (DUP), while Beshir heads the ruling National Congress Party NCP).
Rumours have circulated in Khartoum for weeks of Mahdi's plan to run as a presidential candidate, but his party's political bureau only took the decision to nominate him on Sunday evening.
The nomination is significant because "it might impact the process of reunion of the Umma party," Fouad Hikmat of the International Crisis Group (ICG) told AFP.
"If that happens, that will draw attention and draw momentum as far as alliances are concerned in the North," he said.
Several members, who over the last few years abandoned the Umma and the DUP to join Beshir's party, could then rejoin the two opposition parties, Hikmat believes.
"I think in the coming days, the Umma party will become stronger and stronger," he said.
Source: AP