Yar'Adua's Health: Obasanjo Queried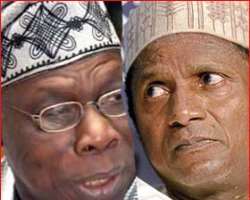 Olusegun Obasanjo and Umaru Yar'Adua
Heavy knocks have descended on former President Olusegun Obasanjo on Sunday over his statement that President Umaru Musa Yar'Adua, who has been ill, should take the path of honour and resign.
The Peoples Democratic Party (PDP) and Action Congress (AC) questioned Obasanjo's motives.
PDP described Obasanjo's call as "an insincere attempt at self exoneration" while AC accused the former president of telling half truths.
The opposition party said Obasanjo was solely responsible for imposing President Yar'Adua on PDP and rigging the 2007 presidential election for him.
Obasanjo, who had earlier refrained from speaking publicly on the controversy trailing Yar'Adua's absence from the country without transferring power to his deputy, opened up last Thursday in Abuja.
He said: "If you take up an assignment, a job, elected, appointed; whatever it is, and then your heath starts to fail and you will not be able to deliver to satisfy yourself and to satisfy the people you are supposed to serve, then there is the path of honour and path of morality and if you don't know that, then you don't know anything."
Speaking through its National Publicity Secretary, Prof. Ahmed Alkali, PDP berated Obasanjo, saying, "It is even worse that the odium he currently faces from friends and foes alike is self-inflicted because his comments are generally perceived as unwarranted and an insincere attempt at self exoneration."
The party said that it was regrettable that for the second time in less than a year, its Chairman of the Board of Trustees had chosen to abandon established channels of communication to comment on very sensitive matters, which are capable of causing disharmony and disaffection in the country.
PDP further said the general condemnation which the Obasanjo's statement had attracted nationwide in the last few days showed that his comments were ill-timed, in bad taste and had not in anyway added value to the dominant issues of the day.
The party said: "As a revered statesman and indeed a major and undisputed beneficiary of Nigeria's democracy, the minimum expected from General Obasanjo even in the face of provocation is a measured and calm demeanour, wise counsel and a demonstration of good faith aimed at enhancing national unity and stability.
"One would have thought that if he must speak at all at that point in time, his focus should have been on the grave security situation in Jos, Plateau State where scores of innocent citizens were being killed or maimed in a senseless war of attrition by people who otherwise should have been their brothers' keepers.
"The Peoples Democratic Party therefore finds it difficult to understand what his motives are, and what he seeks to achieve by these needless pronouncements."
AC also criticised Obasanjo for trying to exonerate himself from the mess in which his self-centredness and lack of visionary leadership have landed Nigeria. The party said Obasanjo was solely responsible for imposing President Yar'Adua on Nigerians.
AC, in a statement by its National Publicity Secretary Lai Mohammed, said the former President was being clever by half by suddenly turning against President Yar'Adua, the same man for whom he presided over the worst election in the history of Nigeria.
The party added: "The old fox is at it again, trying to ride on the crest of widespread disenchantment with the constitutional crisis that has been created by President Yar'Adua's failure to legally transfer power to his deputy while on a prolonged medical treatment in Saudi Arabia.
"Obasanjo cleverly waited until Nigerians have started massive demonstrations against the crisis, which has left Nigeria without a leader for nearly 60 days, before making his clearly cheeky statement in which he asked President Yar'Adua to take the path of honour and resign.
"Had Obasanjo himself taken a path of honour, he would have first apologised to his compatriots for short-changing them through the imposition of a sick and incompetent leadership; had Obasanjo taken the path of honour, Nigeria would not have been in this mess in the first instance because he would have allowed the people to freely elect their leader.
"Therefore, let Obasanjo lead by example: He should take the path of honour by owning up to his shenanigans that left Nigerians saddled with a President consigned to spending a better part of his tenure attending to his own failing health rather than serving a country desperately in need of purposeful leadership."
The party wondered which medical team Obasanjo assembled to examine the medical report of candidate Yar'Adua and what conclusions such a team reached before the former President chose him over and above many others seeking the post.
Also, former PDP presidential aspirant, Chief Rochas Okorocha, accused Obasanjo of imposing President Yar'Adua on the party during the party's 2006 presidential convention.
He said: "Former President Obasanjo was the person who lured President Yar'Adua into running for the office of the President. In fact, he imposed him on all of the then presidential aspirants of the PDP.
"I recall vividly at the convention where all the aspirants, including General Gusau, Prof Jerry Gana and General Buba Marwa among others insisted to address the convention and former President Obasanjo vehemently refused just to make way for President Yar'Adua's emergence.
He literally forced all governors running for the office of the President to step down and even threatened some with the EFCC, all to make way for President Yar'Adua. "Now, the same man is making excuses for his actions against 150 million Nigerians. Former President Obasanjo should know that Nigerians are not fools. I wonder how the family of President Yar'adua would feel at this great sense of betrayal".
Credit: Thisdayonline.com