QOUTE OF THE DAY: Sex is Created For People Who Are Married- Rapper Eva Alordiah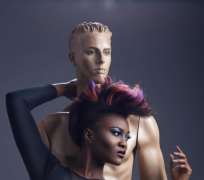 I am single but not searching. My mother is working on that. She is going to get me a husband from the village. I don't know how the search is going for her though. I think Nigerian men are fine, we have the best crop of men in Nigeria. My major priority is to be focused on necessary things. I don't see relationships as unnecessary but I see s*x as unnecessary. I am not a married woman, it is not something I would wake up in the morning and say I would indulge in it. It was created for married people. It is seen as a part of relationships by this generation because people are influenced by what they see on television and read in magazines. The youths are getting very enlightened.
>

Click the link below to go to...
I Can Never Marry A Slim, Broom-Like Lady--Don Jazzy Spits Fire
Revealed: Sex scandals in Akwa Ibom State Government House
An Open Letter To Cossy Orjiakor and Tonto Dikeh & Appeal To Ohanaeze Ndigbo – By Ngozi Kanwiro
Tonto Dikeh and I have brought international attention to Nigeria – Cossy Orjiakor blasts Ngozi Kanwiro
PHOTONEWS: Actress Taiwo Aromokun's Wedding Pictures
Nollywood's English filmmakers should learn professionalism from Yoruba producers***Yoruba filmmakers are far better than their Igbo counterparts – Funsho Adeolu
Why Tuface begged me to marry him -Annie Macaulay
Shocker! How reality TV show winner, met his father on stage after 30yrs of separation