Ethiopian jet crashes off Beirut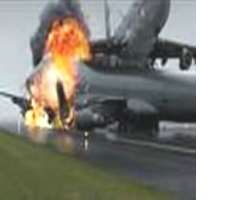 Library: A jet involved a crash

An Ethiopian Airlines passenger plane with 92 people on board has crashed into the Mediterranean Sea shortly after take-off from Beirut airport.
Eyewitnesses say they saw a ball of fire in the sky before the jet crashed into the sea.
Wreckage from the plane has been seen off the Lebanese coast.
Most of the those on board Flight ET409, which was was bound for the Ethiopian capital Addis Ababa, were Lebanese and Ethiopian nationals.
The plane, a Boeing 737, carried 83 passengers and nine crew.
It disappeared from radar screens some five minutes after take-off in stormy weather at about 0200 local time.
The BBC's Natalia Antelava, in Beirut, reports that the Lebanese transport minister and other officials say a rescue operation is now under way, but it is unclear if there are any survivors.
Ethiopia and Lebanon share close business ties, and thousands of Ethiopians are employed as domestic helpers in Lebanon.
Ethiopian Airlines operates a regular flight between Addis Ababa from Beirut.