2010: I'll Step on More Toes, Crush Legs - Waziri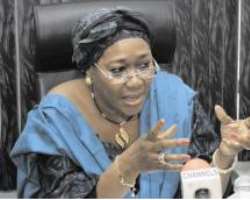 Chairman of the Economic and Financial Crimes Commission, EFCC, Mrs Farida Waziri on Friday, January 22, reiterated her resolve to step on more toes and crush more legs this year.
"I will like to emphasize that this year will be rough and tough for the corrupt in our country. Mark my words; I made a promise to step on toes. I have been stepping on the toes of the corrupt but as we progress this year, we shall endeavour to crush not only their toes but their legs," she said.
Waziri gave the assurance when she received members of the steering committee of the Anti-Corruption Revolution Campaign, ANCOR led by Comrade Mashood Erubami. "Our new approach and strategy since the end of last year already point to this. We need your support as members of the civil society, the judiciary and other stakeholders to sustain this and ultimately win the war",she added.
She charged members of the committee not to be discouraged by the criticism and blackmail they may face in the course of discharging their duties. "I must remind us again that the battle we have all publicly identified with is not an easy one. It comes with blackmail and threats from those on the other side or those that simply don't like your face. They will cook up stories about you to discredit you; but be steadfast," she stated.
She told the committee members to take consolation in the fact that "we are pursuing a noble cause; to rid our nation of all forms of economic crimes and corruption which have held back our nation for years."
Responding, Comrade Erubami, Chairman of the ANCOR Steering Committee, said they were teaming up with EFCC to make it a globally recognized anti-corruption body. "We want to join hands with you to build EFCC into a globally recognized anti-corruption agency with reliable partnership with countries of advanced jurisdiction hence ANCOR has decided to position itself as the greatest enemy of corruption.
"This is what ANCOR is doing and will continue to do through the conscious mobilization of the people who are wonderful sources of information about where corruption occurs and creating new avenues through partners and volunteers to receive information on how to prevent corruption, mitigation in terms of prosecution and educating them about the harms and consequences of corruption," he said.
While commending Mrs. Waziri for her recent visit to Chief Judge of Lagos State, Justice Inumidun Akande, to explore ways the Commission could work with the state's judiciary to enhance the fight against corruption, Comrade Erubami said that ANCOR believes that the courts in collaboration with EFCC can go a long way to rebrand the nation and its citizens if the judiciary will not treat corruption cases with levity and compromise.
His words, "We implore the Chief Justice of Nigeria in consultation with all judicial constituencies to issue new practice directives to conclude all trials of corrupt elements before the courts within the year 2010. "Your request for more magistrate courts to handle pre-trial detention orders sought by the EFCC and issuance of search and arrest warrants and remand (detention) permits is considered to be in order; hence it is heart-warming that the EFCC has proactively offered to contribute to the training of High Court Judges on new aspects of financial crimes".
Erubami who said his committee will raise its voice for the removal of immunity clause to allow the prosecution of public officers on crimes committed while in office, promised to visit the National Assembly to explain why the establishment of Special Courts has become necessary.
"We shall visit the Senate Committee and the House Committee members on corruption and financial crimes to explain while the setting up of Special Courts will not infringe on human rights but instead strengthen human rights as a development issue. This is given that the Special Courts are necessary and desirable to stall smart fraudsters from using the law to slow down the court process through undesirable motions", he added.
He noted that during the tenure of Mrs Waziri, "the act of kidnapping of accused corrupt elements has abated and false impeachment of governors in the name of anti-corruption is no more fanciful. Guilt pronouncements in newspapers have stopped and all anti-corruption issues are now going through due legal processes".
Other members of the Steering Committee who accompanied Erubami included Gbenga Onayiga of NUJ, Joel Odigie (NLC), Yerima Shettima (ACYF), Adamu David, Olawale Okunniyi and Dr. Sadiq Isah Radda
|
Article source